Badgers end boys state soccer drought with 3-1 victory over Walden Grove
Prep Boys Soccer
By
Doug Cook
|
dougout_dc
Originally Published: February 10, 2019 12:18 a.m.
PRESCOTT — It took eight years, but it may have been worth the wait for Prescott's boys soccer program.
The Badgers won their first state playoff match since 2011 on Saturday, Feb. 9, as senior forward Claudio Orozco scored two goals in the first half and freshman defender Bryce Costes added an insurance goal late in a 3-1 victory over Walden Grove.
In the first round of the 4A state tournament at a cold, windy Bill Shepard Field, sixth-seeded Prescott (11-1-1 record) advanced to the quarterfinal round behind timely goal-scoring and a stingy, veteran defense that has continually proved its worth.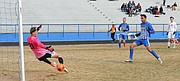 "It's an amazing day today [Saturday] – I'm so happy that we won, and I'm happy to keep going in state," Orozco said.
Second-year Prescott coach Phil Reid said that after his team missed the playoffs last season, he remained steadfast in getting his boys to work hard as a team while trying to perfect their preparation for matches.
"We did a lot of work over the summer, and we were pretty much ready by the fall," Reid added. "And then the plan for the season was kind of calculating what we needed to do."
On Saturday, the Badgers' attack was effective, outshooting the 11th-seeded Red Wolves, 21-8. Orozco scored his first goal from short range in the middle of the field with 20 minutes and 17 seconds left in the opening stanza on a pretty assist from Bryant Chivara.
Less than three minutes later, with 17:35 to go until intermission, Orozco again found the back of the net, flustering Walden Grove's defense.
"I knew coming into this game was going to be challenging, so I knew starting the game I had to come in strong," Orozco said.
Reid said he game-planned on Feb. 7, discussing what Orozco's role would be in the playoff.
"He was excellent out there – moving off the ball, being a target there for our players," Reid added. "He was a handful for their [Red Wolves'] two center backs."
After a bit of a stalemate for the next 17 minutes, Red Wolves midfielder Jacob Garcia cut the Badgers' lead to 2-1 when he lined a crossing shot into the left corner of the net with 27 seconds remaining until halftime.
"We were expecting to get into the attack, and it caught us off-guard and they scored," Reid said. "But after that, we locked them down. Our defense was disciplined – keeping their shape, being first to the ball, winning all the balls in the air."
In the second half, Prescott leaned on its defense to hang on against pesky Walden Grove, which ended its season at 6-5-1.
"We did really good closing their shots, and they only had one in the first half," Orozco said.
Walden Grove coach Ryan Atkinson said he modified his team's on-field formation after falling into the 2-0 hole, and he made even more adjustments after halftime.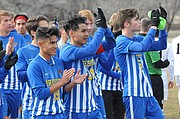 "We were pressing, for the most part, in the second half," he added. "Unfortunately, balls didn't go our way and little bounces could've went the other way. [Saturday] wasn't our day, but my boys fought well and played a good Prescott team."
Costes' insurance goal with 15 minutes left in regulation off a corner kick from Chavira sealed the deal. Costes was in the right place at the right time in the box, knocking in the corner kick mere feet from the net.
"Everyone worked really hard to get here, and I'm super proud of all of our boys on making it this far," Costes said. "This is an amazing experience."
UP NEXT
Prescott meets defending 4A state runner-up Cortez, a 1-0 winner over Dysart in its first-round game Saturday, at 6 p.m. Tuesday, Feb. 12, in Phoenix.
In the bottom half of the 4A bracket with Prescott, second-seeded Tempe eliminated No. 15 Bradshaw Mountain, 3-1, and No. 7 Catalina Foothills edged No. 10 Thunderbird, 3-2, in the opening round.
If the Badgers upset Cortez, they would face the winner of the Tempe-Catalina Foothills game in the state semifinals at 1 p.m. Saturday, Feb. 16, at Williams Field High School in Gilbert.
Doug Cook is a reporter for The Daily Courier. Follow him on Twitter at @dougout_dc. Email him at dcook@prescottaz.com or call 928-445-3333, ext. 2039.
More like this story
SUBMIT FEEDBACK
Click Below to: