Why are flags at half-staff today, Feb. 9, 2019
Longest serving member of Congress dies at 92
Originally Published: February 9, 2019 6 a.m.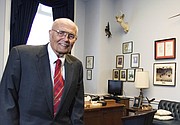 In coordination with the Presidential Proclamation, Governor Doug Ducey ordered that flags at all state buildings be lowered to half-staff from sunrise to sunset on Feb. 9, 2019 to honor the life of former Representative John David Dingell, Jr.
Dingell, who died Thursday at age 92, served in the House with every president from Dwight D. Eisenhower to Barack Obama. Elected in 1955, following the sudden death of his congressman father, he had a front-row seat for the passage of landmark legislation including Medicare, the Endangered Species Act and the Clean Water Act, all of which he supported, as well as the Clean Air Act, which he was accused of stalling to help auto interests.
His hometown, the Detroit suburb of Dearborn, was home to a Ford Motor Co. factory that was once the largest in the world. Dingell died at his home in Dearborn, said his wife, U.S. Rep. Debbie Dingell.
Individuals, businesses, and other organizations are encouraged to join in this tribute.
See full story: John Dingell, longest serving member of Congress, dies at 92
SUBMIT FEEDBACK
Click Below to:
More like this story