Leading & dancing: Prescott High School student excels in academics, dance

By
Nanci Hutson
|
HutsonNanci
Originally Published: February 9, 2019 7:34 p.m.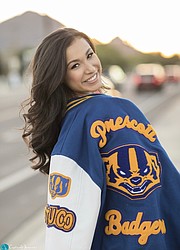 Taylor Lopez is a young woman who stands tall — in physique and personality.
The Prescott High School Student Council president and near lifelong dancer has no trouble stretching her limits — be it twisting her muscular physique into mind-blowing dance moves, exercising her mind as it calculates mathematical formulas or coming up with creative ways to show off school spirit.
She embraces a "can do" attitude. Taylor's ebullience and energy are evident in the way she moves, talks and engages with others, whether she is conversing with someone in a hallway or strategizing with council members on a school project. She is not afraid to chase new adventures or contemplate how to transform big dreams into reality.
"I have a lot of keys in my drawer," said the 17-year-old competitive dancer, who has been accepted through early admission into next year's class in the prestigious University of Arizona School of Dance.
With graduation still three months away, and her college placement secure, Taylor continues to be immersed in the here and now of high school life.
Taylor and her fellow council members, particularly the seniors, are still basking in the glow of hosting what proved to be the largest ever annual convention of the Arizona Association of Student Councils. The two-day extravaganza for 2,100 student leaders from 157 high schools across the state has earned nothing but accolades from all who participated or witnessed the Student Council-driven effort.
Prescott High School's Student Council won the bid to host the convention two years ago.
From her start in Student Council as a freshman, Taylor said she wanted to infuse a strong spirit within the student body, a driving factor in seeking to become president as a senior. Through the convention planning process, a major focus of the council's efforts this school year, Taylor said the council coalesced into a "second family" committed to creating a student body legacy of spirit and service.
"It was surreal," Taylor said of the event, which she believes galvanized every Prescott student to be an ambassador of their school and community wherever they go in life. "The energy was like nothing I've ever seen," she said.
Mile High Middle School Assistant Principal Amy Buettner, who encouraged Taylor to join Student Council back when she was in eighth grade, said she is beyond proud of Taylor and all of her peers for showcasing the caliber of Prescott's student body to the entire state.
Buettner said she is not surprised by Taylor's leadership, as that was evident before she entered high school.
"Right from the start she was a hard worker, enthusiastic about school and helping out," said Buettner who also was Taylor's middle school English teacher and an administrator at the high school for two of her years. "She was always friendly and bubbly, very reliable and trustworthy."
Taylor is a juggler of sorts, managing her passion for dance, academics and school involvement with aplomb, Buettner said.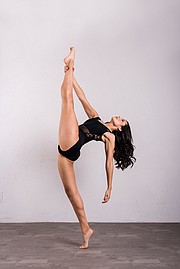 Prescott dance studio owner and instructor Summer Hinton said that from the time Taylor entered her dance studio as a toddler, she showed a sparkle that continues to dazzle.
"She is the type that whatever she takes on she does 100 percent. And she gives the same amount of energy to everything. She just has a wonderful personality," said Hinton, the owner of Summer's DanceWorks.
As for Taylor's future plans to become a professional dancer, or whatever she chooses to do, Hinton said she has no doubt she will be a success.
In 2015-16, Taylor was honored as Arizona's Miss Ultimate Teen Dancer. She earned scholarships to twice attend six-week summer dance camps in Colorado that Taylor described as defining moments in her decision to pursue dance as a college major, and possible career.
Even with her Student Council and academic demands this year, Taylor travels to Phoenix for dance instruction three to four times a week. Hinton said she was delighted to be one of the first to be contacted when Taylor was accepted into the University of Arizona's dance program.
"I am just excited for her next chapter," Hinton said.
So is Taylor.
Though she intends to pursue dance performance, Taylor said she doesn't want to be too narrow in focus because she looks forward to the journey and where that might lead. She said she is still considering what she might like as a college academic minor.
Taylor knows she meets the height requirements for the famous Radio City Music Hall Rockettes, and would be more than open to performing with a top musical entertainer — think Beyoncé — or joining a dance company. Maybe a Broadway show or television and film commercials.
"It all sounds fun," Taylor said.
With graduation in sight, Taylor said she counts herself fortunate to have been given so many opportunities, particularly leadership in Student Council, that she knows will pay off in adult life.
"If it hadn't been for Student Council, I wouldn't be where I am," Taylor said.
And she will always be grateful to be a product of Prescott.
"You can't get the small-town love anywhere else," she declared.
More like this story
SUBMIT FEEDBACK
Click Below to: