Political outlook more optimistic in Prescott than rest of country
Nationally, Pew study finds both parties see less reason for optimism in 2019

Originally Published: February 8, 2019 9:46 p.m.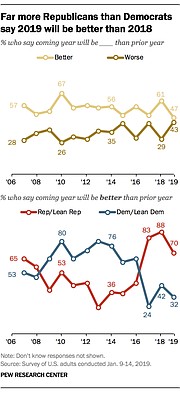 Braving the icy wind, stinging rain and even the occasional bouts of hail, Bill Gauslow stood with others on the corner of Montezuma and Gurley streets as they protested the state of the nation.
When asked, Gauslow said he looks at the rest of 2019 and beyond optimistically when it comes to politics. He's always optimistic, he said.
"I'm just a gentle-natured guy," Gauslow said. "I see things on the … sunny side of the street."
President Donald Trump will manage to be defeated in 2020 and it will be over, he said. Trump's term not lasting forever is why Larry Meads said there was a lot of optimism to be had. Further, Meads said, there was a progressive wave in the 2018 election and he thinks it's going to continue in 2020.
On the other hand, Connie Slaten said she believes 2019 is going to be a hard year, but is also hoping for a much better 2020.
Trump isn't doing his job and continuing to tear down the environment, the Constitution and wrecking treaties, she said.
"All of those things are very bad things," she said. "But I think with time or a Democratic Congress, or part of it, that we may be able to stop some of the worst of those things."
COUNTER ARGUMENT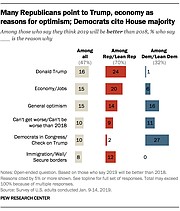 On the other side of the courthouse plaza and across the street, on the corner of Cortez and Gurley streets, conservative counterprotesters also spoke about optimism.
Dan Elkins said he's optimistic about the economy and what Trump is doing to get the country back on track, adding that it will make a big difference if the border wall is built.
"He's getting a lot of opposition from the Democrats and the (establishment) Republicans," he said. "If we don't get the wall, I'm not going to blame him. I'm going to blame Mitch McConnell and the establishment Republicans."
Though Gail Talerico said she is worried about the dissension, she still has high hopes because of the president but wishes he wouldn't get so blocked by everything.
The United States would be a lot further on if Trump didn't get blocked, Talerico said.
Ed Wolfe said he is neither optimistic nor pessimistic, stating his outlook is even. It's because he can't see the future but he can be hopeful. "I hope things go according to the way it was," he said. "Abide by the Constitution, smaller government, lower taxes. Makes life easier on everyone."
SURVEY
These answers are in contrast to the results of a survey of adults conducted by the Pew Research Center in January 2019 that found 47 percent of Americans say they have an optimistic outlook on 2019 and that it will be better than 2018. One year ago, 61 percent said they had an optimistic outlook for 2018 and that it would be better than 2017. In contrast, 43 percent said they had a pessimistic outlook and that 2019 would be worse than 2018 — more than the 29 percent who said 2018 would be worse than 2017.
As for members of the political parties themselves, 70 percent of Republicans and Republican-leaning independents say 2019 will be better than 2018, compared to 88 percent in 2018, and 32 percent of Democrats and Democratic-leaning independents feeling positive about the coming year, compared to 42 percent last year.
According to the study, Trump is a major factor when it comes to both positive and negative expectations for 2019.
"Asked why they think 2019 will be better than 2018, 24 percent of Republicans volunteer Trump as the reason, while 20 percent cite the economy. Roughly one-in-ten (12 percent) point to expectations around border security and immigration, including the possible expansion of the U.S.-Mexico border wall," the study states.
"Trump is by far the top reason for pessimism among the 56 percent of Democrats who expect this year to be worse than last year. About four-in-ten Democrats (43 percent) say 2019 will be worse than 2018 and cite Trump as the main reason; another 16 percent cite government shutdown, while 13 percent cite political instability or the country's political divisions."
The Democrats who do have optimism about 2019 most commonly cite the Democratic House majority or the party's "ability to provide a check on Trump."
Others say the coming year will be better because 2019 can't be worse than 2018 or express general optimism about the coming year.
More like this story
SUBMIT FEEDBACK
Click Below to:
This Week's Circulars
To view money-saving ads...