Suspect in Jan. 30 police standoff in Williams same man from PV Walmart arrest in 2018

By
Max Efrein
|
mefrein
Originally Published: February 7, 2019 9:39 p.m.
The man responsible for a nearly six-hour standoff with police in Williams Wednesday, Jan. 30, has criminal history in the Town of Prescott Valley.
Matthew Philip Solan, 29, was the passenger of a vehicle pulled over by officers along Route 66 in Williams at around 12:18 p.m. on Jan. 30.
Solan was wanted for questioning in an incident that occurred a few days earlier, Coconino County Sheriff's Office Lieutenant Brian Tozer told the Williams News, a sister paper of The Daily Courier.
Based on an Attempt to Locate bulletin, Williams officers spotted Solan exiting Footeworks and entering a black Dodge Dakota, Williams News reported.
"The female driver was ordered out of the vehicle and she complied," Tozer told Williams News. "A male occupant in the rear exited on his own and surrendered, and that's when Mr. Solan entered the driver's seat and refused to exit."
During the standoff, Solan threatened suicide but did not threaten officers with the gun he was carrying.
At 6:30 p.m., after nearly six hours of negotiating, Solan shot himself in the upper leg, exited the vehicle and surrendered to law enforcement. He was treated by medics on the scene and transported by LifeLine Ambulance to Flagstaff Medical Center with non-life threatening injuries.
Solan was booked in the Coconino County Detention Facility on offenses including kidnapping, aggravated assault, weapons violations, resisting arrest and a probation violation.
HISTORY
Tozer said Solan has a criminal history with law enforcement in Williams and other locations.
A records check found that Solan was arrested in January 2018 in Prescott Valley. He had shattered a Prescott man's truck window with a knife at the Maverik gas station on Glassford Hill Road after a deal to sell Solan a bus fell through. Solan was later arrested in Prescott Valley's Walmart and faced several charges. He also had an extraditable felony warrant out of Oklahoma.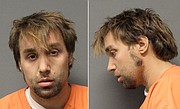 For the Prescott Valley incident, he pleaded guilty to disorderly conduct (class 6 felony), and criminal damage (class 1 misdemeanor). His sentence was suspended and he was placed on supervised probation for three years.
As for the Oklahoma felony warrant, the Yavapai County Sheriff's Office (YCSO) worked with law enforcement officials in Oklahoma to transport Solan to Oklahoma to face his warrant obligations there in June 2018, said YCSO spokesperson Dwight D'Evelyn.
How and why exactly Solan ended up returning to Arizona to live in Williams is unclear.
Related Stories
More like this story
SUBMIT FEEDBACK
Click Below to:
This Week's Circulars
To view money-saving ads...