Discovering the past in an antique store, downtown Prescott

Originally Published: February 7, 2019 10:14 p.m.
As the owner of Merchandise Mart, the largest antique mall in Northern Arizona, Jeanne Antonius said she enjoys the adventure of seeing what comes in every day as well as what people end up buying.
After all, Antonius said, you just don't know what people's tastes are going to be.
"And they're really changing now with the younger people coming and I love to see that because people tell me young people don't want antiques. Yes they do," she said. "They might be coming in for toys that they played with as children, but then they look at other stuff. It's been a great adventure."
While Prescott is famous for Christmas, Whiskey Row and the World's Oldest Rodeo, the city also has a draw in antiques and collectibles. The numerous antique stores on Cortez St. and other out of the way stores prove that many find value in what others are giving away.
While it's really hard to pin down what makes someplace a good town for antiquing, Keystone Antiques owner Jacy Lee noted that Prescott has charm as an old town.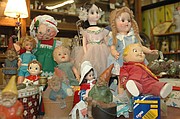 "The tourists, the old houses, lots of people moving in and then giving items up, realizing they don't quite fit in their new homes," Lee said. "Probably the thing that really makes a good antique town is the people. They're into antiques and there's people here that want to be antique dealers."
Located at 205 N. Cortez St., Merchandise Mart has been open for more than 30 years, but Antonius said she still gets people who come in asking if the store just opened. Still, those who are into antiques know where to find them, she said. That includes people from out of town, out of the country and even out of the state, Antonius said.
The fact that the "Antique Row" seems to be a hidden gem in Prescott is why a guide and map to various antique stores in Prescott was made to get people on Cortez Street and guide them from store to store, said Gypsy Street Antiques owner Susan Smart.
Smart said she believes people enjoy the history to be found in an antique store. People will come through and it will click for them that they're seeing something their grandparents might have had or something they might have had as a child, she said
"I think our history is kind of lost to us because things move really quickly into technology, so I think people like to reminisce," Smart said.
There's the thrill of the hunt and discovery as well, she said. Some people will look for and collect really obscure items so they can travel around while not spending a lot of money buying, Smart said.
Antiquing can result in education, too, she said. When people come across something they've never seen before, it could turn into a chance to learn something new, Smart said.
Keystone Antiques is located at 127 N. Cortez St. and Gypsy Street Antiques is located at 133 N. Cortez St.
More like this story
SUBMIT FEEDBACK
Click Below to:
This Week's Circulars
To view money-saving ads...