3 Chino Valley grapplers heading into state finals Friday
Prep Wrestling
Originally Published: February 7, 2019 9:19 p.m.
PRESCOTT VALLLEY — The Division III and Division IV state wrestling tournament kicked off Thursday with the best wrestlers in the state all meeting inside the Findlay Toyota Center to decide the best of the best. The schools of Bradshaw Mountain, Prescott and Chino Valley were all well represented with the schools combining to produce 24 participants, with the Cougars leading the way with 11.
Photo Gallery
02 07 19 State Wrestling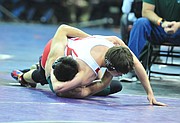 The Cougars were the only school to advance wrestlers into the championship matches, with Colby Evens, Kyle Lund and Keller Rock, each earning a chance to wrestle for the state championship on Friday.
In total, the schools will still have 10 wrestlers competing Friday when the action kicks off 10 a.m. with the championship rounds beginning at 7 p.m.
CHINO VALLEY
The Cougars had a successful opening day Thursday with nine of their 11 wrestlers earning at least one victory and seven wrestlers qualifying to continue wrestling into day two.
On the day the Cougars finished as follows: 106-pounder Hunter Lane (1-2), 113-pounder Evens (3-0), 120-pounder Wade Payne (2-1), 126-pounder Lane Evens (2-1), 132-pounder Cody Jasper (1-2), 152-pounder Lund (3-0), 160-pounder Clayton Stephenson (0-2), 170-pounder Rock (3-0), Dakota McMains (2-1), 220-pounder Samson Estala (0-2), and 285-pounder James McCormick (2-1).
Altogether, the Cougars team performance was good enough for second place in the team standings with 99.5 points as we head into the final day of the boys tournament.
"(Today) we had a good performance," head coach Kevin Geise said. "We lost a few we should've won, but all in all the wrestlers showed up and scored us some team points, so we're looking good. We got (three) into the finals, we have seven total wrestling, so we're still in it."
PRESCOTT
The Badgers came into Thursday with six wrestlers competing and their performance has them ranked No. 23 in team points, with half of their team advancing to compete on Friday.
Prescott wrestlers faired as follows: 126-pounder Colton Tomitz (1-2), 132-pounder Lincoln Eby (2-1), 138-pounder Andrew Salberg (2-1), 170-pounder Koby Coates (2-1) and 182-pounder Nate Goligoski (0-2).
BRADSHAW MOUNTAIN
The Bears had a tough showing Thursday, only picking up two victories on the day as a team and no wrestlers advancing to compete Friday.
145-pounder Owen Alvarez (0-2), 152-pounder Nick Foshee (1-2), 170-pounder Parker Hines (1-2), and 220-pounder Cameron Harris (0-2), put together a team performance that was only good enough for three total team points and a ranking of 45.
Chris Whitcomb is a sports reporter for The Daily Courier. Follow him on Twitter at @AZChris32. Email him at cwhitcomb@prescottaz.com, or call 928-445-3333, ext. 2031.
More like this story
SUBMIT FEEDBACK
Click Below to: