Prescott High School creating lounge for special needs students
Gift from student, parent and community donors

By
Nanci Hutson
|
HutsonNanci
Originally Published: February 6, 2019 11:51 p.m.
A no-longer used photography dark room at Prescott High School is getting remodeled into a lounge for students with special needs.
This is a wish-list space made possible by the generosity of PHS students, parents, and community members. These volunteers donated more than $2,500 worth of labor, supplies, and furnishings.
Prescott High School parent Dani Mackin spearheaded the project she estimates took all of three weeks to organize. Mackin and her husband, John, a Prescott Unified Governing Board member and past president, have four children, two of them with special needs. She said she was determined to help after reading a Facebook request about the about the potential benefits for these students, she said.
Beyond offering a place for students to go in the case of an emergency school lockdown, the room was viewed as a place for those who need a quiet, comfortable place to decompress from the constant hubbub that is part of daily high school life.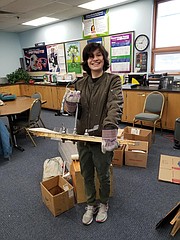 Some special needs students suffer from sensory overload, and when overstimulated can need a break before they can be part of a regular classroom experience, Mackin said. This space will enable them to have a supervised, safe space where they can go, sit and relax until they are calm enough to return to class, she said.
Not far from the school's main entrance, the room will soon be equipped with donated chairs and couches, with walls painted in soothing colors and equipment to play soft, tranquil music, Mackin said.
MAKING IT HAPPEN
After talking to speech pathologist Sandra Lindberg, the catalyst behind creating such a space, Mackin opted to approach the school's United States Air Force JROTC leaders. She wanted to enlist the student cadets to assist with the initial demolition completed in a couple hours the Saturday before the Super Bowl. Mackin's son, Zachary, a senior with Down syndrome, is one of the cadets; her sophomore son, Sam, volunteered as a way to help students like his brother, enlisting some of his peers for the job.
The JROTC Department chairman and instructor, retired Lt. Col. Bill DeKemper, said he was delighted his students embraced the project. Part of the JROTC mission is community service, and the cadets and leaders regularly volunteer to do things that benefit both the school and community, be it hosting the annual city 9/11 ceremonies, marching in town parades or painting the "P" on Badger Mountain, DeKemper said.
DeKemper said he and fellow instructor, retired Air Force Senior Master Sgt. Erik Appeldoorn, both have construction expertise. So they donated their time to strip the room to make it ready for new flooring, drywall and décor.
"It's a great idea," DeKemper said. "To me, any time we can help the school and community with community service, it's a plus.
"Our program is all about building better citizens, and part of that is giving back to society that has given so much to you."
Mackin concurs.
There is still work left to be done, but Mackin said she has no doubt it will soon be yet another proud example of what this community is willing to invest in its youth.
"I love it," Mackin said. "It's great for our kids.
"There is a lot to be learned about good sweat equity and giving of your time with no expectation of getting anything in return. I think that goes a long way to promoting good will, teaching things like compassion and selflessness, getting our focus off ourselves."
JROTC cadet Jacob McEachrin considered it a privilege to play a role in the conversion. He said he hopes this will prove a lasting gift to future generations of PHS students.
"I was kind of excited for it," said McEachrin who helped load up a trailer full of wood that ended up getting donated to a local veteran. "It felt pretty cool to help out my school. "
In this day and age, Mackin said there is a lot of emphasis on instant gratification. So this is a chance for teens to see a need and use their talents and time to answer it.
"I just think it is so good for growth and perseverance," Mackin said. "Things don't just happen. It takes hard work behind-the-scenes to make things happen.'
This project is a lesson in the importance of people standing up to make a difference; ideally, where they live, Mackin said. She noted two of the volunteers are special education students.
Often, it takes very little to make a very big difference, Mackin said.
"Two hours on a Saturday – that's not that hard. We can all do something like that," Mackin said.
More like this story
SUBMIT FEEDBACK
Click Below to: