Prescott man flees officers, rams police car
SWAT team uses pepper balls, taser to detain man
Originally Published: February 5, 2019 10:42 a.m.
Updated as of Tuesday, February 5, 2019 11:19 AM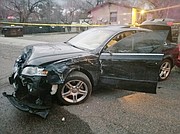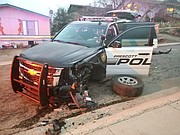 A "heavily-intoxicated" Prescott man was forcibly detained by Prescott Police Department's (PPD) SWAT team late Monday afternoon, Feb. 4, after fleeing from police and crashing into a police SUV.
At about 4:36 p.m., PPD responded to a domestic-related argument in the 900 block of Audrey Lane. Before officers arrived, the man reportedly causing the argument left the area in a black 2006 Audi, said PPD spokesperson Dave Fuller.
The Audi was soon located and stopped at Sun Street and Audrey Lane. The driver, 42-year-old Henry Hobson of Prescott, refused to comply with officers and drove off, Fuller said.
After a short-lived police chase, Hobson drove down a dead end street, made a U-turn and drove directly toward the officers, Fuller said. He swerved around one fully-marked police car and then collided into a second one in the 200 Block of Madison Avenue. Both the Audi and police car were totaled in the crash.
Hobson again refused to comply with officers' directions and wouldn't get out of his car.
"Due to the events, non-compliance of the suspect and his threatening statements, the Prescott Police Department SWAT team was called," Fuller said.
The SWAT team engaged Hobson and deployed pepper balls into his car, Fuller said. Hobson ultimately got out of the car and continued to disobey commands. He was then tased and taken into custody.
Hobson was treated at the scene by Prescott Fire Department for minor injuries. He was considered "heavily intoxicated." No officers or bystanders were injured.
"The investigation is ongoing and will result in Hobson being booked and charged with numerous crimes," Fuller said.
More like this story
SUBMIT FEEDBACK
Click Below to: