From the greenhouse to the market
Yavapai College horticulture students see whole planting cycle

Originally Published: February 5, 2019 10:31 p.m.
Updated as of Sunday, February 17, 2019 10:49 PM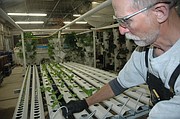 Carefully examining the tomato plants for new formations inside the humid greenhouse, MaKenna Snyder said just how much she enjoys the Production Horticulture class at Yavapai College.
It is actually her second semester in the class, Snyder said, commenting how she has seen the tomatoes grow from tiny plants to where they are now, reaching from the greenhouse ceiling down to the floor.
"I've seen this a ll the way through," she said.
The class, taught by Rich Peterson and Justin Brereton, meets Wednesday evenings at the college's Agribusiness and Science Technology Center. The intent of the full semester is to have a full greenhouse with plants grown by the students who are exposed to multiple growing techniques including seed planting and cloning, Peterson said.
The grown plants are put on sale at the annual plant sale, and every two weeks students are out at the Prescott Farmers Market selling vegetables grown in the greenhouses, Peterson said. They get to see the whole cycle from planting the seed and growing the plant all the way through interacting with the public and selling the product, Peterson said.
The next time the students will be at the Farmers Market, located at Prescott High School, 1050 Ruth St., will be 10 a.m. to 1 p.m. Saturday, Feb. 9.
Though it is uncommon in the Chino Valley area to have a heated greenhouse to grow vegetables, it is used as a teaching tool in the class, allowing the students to grow and take the product to the market, Peterson said.
"The economics may not be there for another grower in Chino to grow tomatoes, for example, all winter long because of propane trying to keep the greenhouse heated," he said.
Charlea Slocum, another student it the class, said she has been at the Prescott Farmers Market selling the produce and enjoys giving people better quality food. It is a cool experience to know exactly where your food came from, Slocum said.
Snyder said going to the Farmers Market to sell the produce is rewarding.
"A lot of people ask about how we grow," she said. "They're always wanting to know about hydroponics, especially (because) it's … a growing technology in agriculture."
Hydroponics is a method of growing plants in a water-based, nutrient rich solution with no soil involved and is a part of the class as well. The plants' roots receive the nutrient solution, which is then pumped into a collector tray and back into a stock tank, Peterson said. Production setups can have acres and acres of similar systems, so through the class the students are exposed to what they could potentially see in production-scale agriculture, he said.
"It's controlled conditions in here, very clean, not exposed to the wind and the UV and the insects," he said. "You have your own set of insects that are inside but not quite as many, not quite as bad as on the outside of the environment, but you end up getting a higher quality of food product out of it."
Other techniques can be used to grow plants hydroponically, Peterson said. Vertical farming allows growers to raise more plants in a smaller space, he said.
Peterson said he enjoys teaching the class because he likes growing things. He has a small farm in Chino Valley, making it a natural extension of what he does, he said.
The class gets students who are interested in just growing in their backyard and others who take it and go onto a university agriculture program, Peterson said. What they can do in the field depends on what their interests are and can range from working in production agriculture or in a greenhouse environment or as a pesticide or fertilizer salesperson, he said.
While she hasn't figured out what her niche will be in the future, Slocum said plants are her favorite thing. Her tiny apartment is full of them, and she wants to do more with what she enjoys, she said.
"I either want to … have my own little greenhouse shop or something or just grow for my family and provide for myself," Slocum said.
Snyder said she would like to either work for the Game & Fish Department in the fish hatcheries or in hydroponics because of how huge it is going to become in the agriculture industry.
For more information about the Yavapai College Agribusiness and Science Technology Center or the agriculture classes the college offers, visit www.yc.edu/v5content/campuses-and-sites/chino-valley.
More like this story
SUBMIT FEEDBACK
Click Below to: