Bradshaw Mountain gives Desert Edge fits, but falls in Senior Night finale
Prep Girls Basketball
By
Doug Cook
|
dougout_dc
Originally Published: February 5, 2019 10:48 p.m.
PRESCOTT VALLEY — On Senior Night, Bradshaw Mountain's girls basketball team gave 4A No. 5-ranked Desert Edge just about all that it could handle in the Bears' 2018-19 regular-season finale Tuesday, Feb. 5, at Gary Kunow Gym.
Photo Gallery
BMHS vs Desert Edge Girs Hoops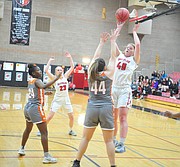 Trailing 29-21 at halftime, the No. 16-ranked Bears of the Grand Canyon region didn't let up on the Scorpions until the final minute of regulation, when sophomore Lylonee Mata converted 4 of 4 free throws to seal it for the visitors en route to a 49-42 victory.
"We played really hard, and we knew that this team was good coming in, so we just rose to the occasion," Bears sophomore swing Sierra Woolley said. "We didn't know we were going to play this well against them."
Bradshaw Mountain, which honored five seniors, including Rylee Bundrick, Leigha Campbell, Alexis Lara, Delanie Clark and Monica Saenz, after the game, finished the regular season with an 11-7 record in power-point games.
Woolley commended the seniors for their leadership this season.
"It's been amazing – they're great captains and they're great teammates to have," Woolley said. "They always push us to do better, and they always bring us up and raise our attitudes."
More importantly, the Bears – whose three-game winning streak ended on Tuesday – registered a 9-3 mark in region play, second only to Grand Canyon champion and No. 7-ranked Flagstaff. Bradshaw Mountain's headed to the state play-in round on Thursday, Feb. 7.
"We didn't think we were going to go this far, in the tournament and in the region, and we just surpassed all expectations," Woolley said. "And that's amazing. I'm really proud of us."
Versus Desert Edge, which will be a state tournament qualifier, the Scorpions' full-court pressure defense forced the Bears into sloppy turnovers at inopportune times. That, in addition to Bradshaw Mountain converting only 2 of 10 free throws, may have been the difference in a tight contest. Desert Edge netted 10 of 14.
"Coming into this [non-region] game [against a highly ranked opponent], we definitely were focused on staying as a team, staying positive and keeping our body language up," Clark said. "We didn't want to let ourselves get down on each other. We were trying to compete. We played our hearts out."
Desert Edge, a bit of a surprise this season as the 4A West Valley region champ (8-0), improved to 16-2. The Scorpions have won six straight games. Desert Edge coach Heidi Behnke said her defense struggled against Bears posts Clark and Rylee Bundrick.
"With the bigs coming up higher [in the paint], our rotations sometimes weren't as good as they need to be," the coach added. "Bradshaw Mountain played their hardest on Senior Night."
Bradshaw Mountain was led by Clark's 13 points and Bundrick's 11.
"We knew that we were going to have to play really well to stay with them [Scorpions], and it was exciting to play a really good team," Bears coach Rick Haltom said. "That's going to help us on Thursday."
For Desert Edge, sophomore Haley Montano scored a game-high 14 points. Post Karina Montano followed with 13 points. Mata and Kiara Windfield added eight points each.
STATE PLAYOFFS
Bradshaw Mountain and Desert Edge will learn their state playoff fates today, Feb. 6, when the Arizona Interscholastic Association (AIA) announces the eight pairings for the 16-team play-in round.
The eight-game, single-elimination play-in round, for the Nos. 9 through 24 seeds, is scheduled for 7 p.m. Thursday, Feb. 7. The Nos. 9 through 16 seeds host a play-in game, which Bradshaw's expected to do.
The Top 8 seeds earn byes into the first round of the 16-team 4A state tournament, awaiting the eight winners from the play-in round to be reseeded into the bracket after Thursday. State begins with the first round at 7 p.m. Wednesday, Feb. 13, when eight games are played at the higher-seeded teams' gyms.
Doug Cook is a reporter for The Daily Courier. Follow him on Twitter at @dougout_dc. Email him at dcook@prescottaz.com or call 928-445-3333, ext. 2039.
More like this story
SUBMIT FEEDBACK
Click Below to:
This Week's Circulars
To view money-saving ads...