Prescott Valley police seeking two people in connection to Walmart thefts
Police asking public to help identify suspects
Originally Published: February 4, 2019 4:34 p.m.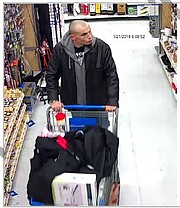 The Prescott Valley Police Department (PVPD) is seeking the public's help to identify a man and woman in connection to recent shoplifting thefts at Walmart stores in Prescott Valley, Prescott and Glendale.
The two suspects were first spotted on surveillance video leaving a Walmart in Glendale on Saturday, Jan. 19, with about $1,300 in stolen merchandise, said PVPD spokesperson James Risinger. As soon as they exited the store, they took the items to a waiting vehicle out of view nearby.
The next day, Jan. 20, a resident reported a Walmart cart filled with more than $3,200 worth of merchandise behind the Maverik convenience store north of the Walmart in Prescott Valley, Risinger said. The resident returned the merchandise to the store. Subsequent reviews of store video showed a man fitting the description of the Glendale theft suspect pry open an emergency exit door on the building's north side, disable the alarm and walk northwest in the direction the merchandise was later found.
A similar instance occurred at a Prescott Walmart on Monday, Jan. 21, Risinger said. Video showed what appeared to be the same suspect drive up to the store in a dark-colored four-door vehicle. The man filled a cart with items from several departments and then entered the garden center, disabled the locked door alarm and left with more than $1,271 in merchandise.

Both the man and woman in being sought appear on video to be Hispanic or mixed race, Risinger said. The man appears to be between 30 and 35 years old, bald with a long goatee and weighing between 150 and 170 pounds. The woman appears to be between 35 and 40 years old with long black hair and weighing between 120 and 130 pounds.
"If you have any information regarding the identity of the male or female, please contact the Prescott Valley Police Department at 928-772-9267," Risinger said.
More like this story
SUBMIT FEEDBACK
Click Below to: