Pronghorn roundup decreases size of herd by half
Development encroaches on habitat, threatens survival

Originally Published: February 2, 2019 9:45 p.m.
One helicopter, two agencies, wildlife biologists and veterinarians rounded up and removed 45 of the estimated 100 pronghorn still remaining in the Glassford Hill herd Jan. 24, and transported the animals to new locations in southeast Arizona.
Personnel from the Arizona Game and Fish Department (AZGFD) and the Arizona Antelope Foundation worked with private landowners to gather about half of the herd's population. Three of the pronghorn died during the effort.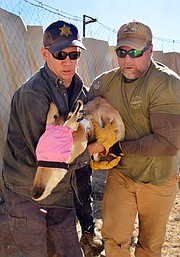 The helicopter funneled the pronghorn into a holding area where veterinarians and biologists checked the health of each animal, attached an identification ear tag and GPS tracking collars, and loaded them into trucks.
Transported 300 miles away to release sites near Bonita, Altar Valley and San Bernardino Valley, the pronghorn were released into a new herd numbering about 100.
"Our mission at Game and Fish is to conserve and protect all of Arizona's wildlife," said Erin Butler, terrestrial wildlife program manager, Kingman regional office. "With a four-lane, divided highway to the north, an encroaching subdivision to the east, another housing community under construction to the west, and more development to the south, this particular herd needs our help."
As the pronghorn habitat dwindles, they find it increasingly difficult to survive. Translocating the animals actually boosts and adds genetic diversity to existing populations in southeast Arizona, Butler added.
Extensive habitat improvement work over the past 10 years in these southern areas include clearing 22,000 acres of mesquite, modifying 35 miles of fencing to facilitate easier pronghorn movement, and the placement of 15 water troughs. The work was done in partnership with the Arizona Antelope Foundation and the National Resources Conservation Service, both of which provided funding and volunteers.
Most of the pronghorn were driven down part way on the evening of Jan. 24, and then released at several different sites the following day, said Tom Cadden, AZGFD public information supervisor. One group was driven down the same day of the capture and released that evening. 
"We had three mortalities during the event: one during transport, two others on the ground, most likely due to capture myopathy," Cadden said.
Biologists take steps to try to minimize mortalities, usually 10 percent or less of those captured, he added.
AZGFD expects the Glassford Hill grassland habitat to be completely developed within the next five to 10 years. This will result in a decrease in the remaining population through natural attrition until the herd is gone forever.
The fastest land animal in North America can't outrun human development.
More like this story
SUBMIT FEEDBACK
Click Below to: