Bradshaw Mountain boys cagers sweep rival Prescott
Prep Boys Basketball
By
Doug Cook
|
dougout_dc
Originally Published: February 2, 2019 6:16 p.m.
Updated as of Saturday, February 2, 2019 7:25 PM
PRESCOTT VALLEY — Who would've thought three months ago that Bradshaw Mountain's boys basketball team would win not only 11 power-point games in 2018-19, but finish with an 8-4 record in the Grand Canyon region?
Last season, the Bears were 2-16 and 1-11. Let that soak in for a minute.
Photo Gallery
Bradshaw Mountain vs Prescott Boys Hoops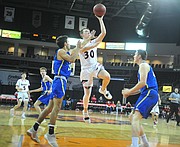 Although Bradshaw Mountain has one game left in the regular season, the Bears concluded region play with a 53-44 victory over area rival Prescott, sweeping the two-game series from the Badgers on Saturday, Feb. 2, at Findlay Toyota Center. The Bears beat the Badgers, 65-52, in their first meeting Jan. 8 in Prescott.
"We haven't done that in a while," Bears guard Carter John said of defeating Prescott twice in the same season. "Last year we didn't do it. But we knew what was on the line, and we came out and played our hardest."
The Bears, who have won seven of their last nine games and are ranked No. 20 in 4A, may not move up high enough in the rankings to host a state play-in tournament game on Friday, Feb. 8. They don't mind hitting the road, though. Bradshaw Mountain's thrilled to have a chance to qualify for the 16-team 4A state tournament.
"It's great, because last year we were nowhere close to the playoffs – and now we are, we're going to the playoffs," Bears sophomore post Nate Summit said. "All the hard work paid off."
The Top 8 seeds in the power-point rankings at the end of the regular season receive automatic berths to state. But the Nos. 9 through 24 seeds are paired into a one-game play-in round at the higher seeded team's gym. The eight winners advance to state as at-large selections.
"It has been gratifying – it's been fun," first-year Bears coach Blair Hillig said of the season. "It's not because of the number of wins; it's because you know that you're going to come to the gym every day and play hard. This is icing on the cake."
Meanwhile, Prescott has lost six straight games, including five in region. The Badgers are 2-15 and 2-9.
"With a year of experience, we'll be a lot better next year," Prescott junior post Korey Schwartz said.
On Saturday, Bradshaw Mountain carried a 43-36 lead into the fourth quarter and was content to slow down the game to avoid an upset against the No. 37 Badgers. The Bears – who won the game without converting a single 3-pointer – outscored Prescott, 10-8, in the final period to secure the victory.
"We were trying to stop them from getting in the fast break," John said of slowing the tempo in the fourth. "That's how they like to score. So, if we took care of the ball and didn't get a turnover, then they'd have to score in the half-court, which they struggle at."
Added Badgers coach Travis Stedman, "They [Bears] were trying to win the game. They knew that we had momentum, and so they pulled it out. Honestly, we were fine with it. We stayed composed defensively."
John led Bradshaw Mountain with 18 points, two assists, two steals and a rebound. John converted 10 of 11 free throws, including 6 for 6 in the second period alone.
"I don't know what we would've done without him – he's a huge asset to the team," Summit said of John.
Senior forward David Massis added 17 points (5 of 6 from the line) with five rebounds and three assists. Tripp Nestor (eight points, four assists, three steals) and Summit (six points, 10 rebounds, three blocks) followed.
For Prescott, which struggled in the first and final quarters (tallied five points in the first), junior post Korey Schwartz had 19 points (4 of 6 free throws), seven rebounds, an assist and a block. Dellinger Boyd chipped in with nine points, four rebounds, two assists and a block.
"We have been one of the most inconsistent basketball teams all year," Stedman said. "Some nights, we've been really, really good defensively, and really, really bad offensively. [Saturday's] a really good example of that, halfway through. And then the other half of the game, we were really, really bad defensively, and pretty decent offensively. We can't get both sides of the floor to mix together."
UP NEXT
Prescott visits region foe Mohave (2-14, 0-10 Grand Canyon going into Saturday) at 7 p.m. Tuesday, Feb. 5, for its season finale in Bullhead City.
Bradshaw Mountain travels to 4A No. 22 Desert Edge (8-9) of the West Valley region for its regular-season finale at 7 p.m. Feb. 5 in Goodyear.
Doug Cook is a reporter for The Daily Courier. Follow him on Twitter at @dougout_dc. Email him at dcook@prescottaz.com or call 928-445-3333, ext. 2039.
More like this story
SUBMIT FEEDBACK
Click Below to:
This Week's Circulars
To view money-saving ads...