Big game, big parties, big consumption
Sports bars prep for Super Bowl Sunday
Originally Published: February 2, 2019 4:23 p.m.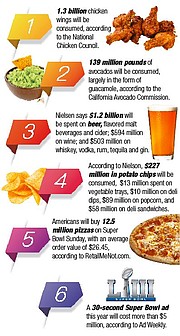 Here Are the Most Popular Super Bowl Snacks in Every State, According to Google — Food News
As improbable as school teacher Vince Papale joining the Philadelphia Eagles, it was equally unlikely that the team from the City of Brotherly Love would beat the New England Patriots, but they did and 103.4 million people watched, according to Variety.

This year, while viewing for football is down, according to CBS, the Feb. 3 Super Bowl between the Los Angeles Rams and New England Patriots is still projected to be one of the most-watched events in America — even across the globe.
For bars, especially sports bars, the Super Bowl is one of their busiest days, and that is no different in Prescott and Prescott Valley.
Pudge and Asti's Sports Grill, 721 6th St., Prescott, will begin cooking and prepping for the Super Bowl the night before. The sports grill will be doing a potluck in a buffet style while running a few specials. The kitchen will still be open as well.
The sports bar can hold around 200 to 300 people, said Dillon Kreitzer, a Pudge and Asti's Sports Grill cook. Pudge and Asti's is prepping for that many, according to Kreitzer, and they're expecting a full house. A guarantee 100 to 150 people are expected to watch the Super Bowl at Pudge and Asti's, Kreitzer said. He estimates the kitchen could sell as much as $4,000 to $5,000 worth of food during the Super Bowl.

Usually at Pudge and Asti's Sports Grill fans askew toward Arizona teams, the Cardinals, Suns and Diamondbacks, but the sports bar does have a solid Rams and Patriots fan contingent, said Leo Anthony, Pudge and Asti's Sports Grill kitchen manager.
Buffalo Wild Wings, 2985 Centre Court, Prescott Valley, is prepping a few items for Sunday, but most cooking will be done during Game Day. General Manager Carlos Vasques is bringing in 10 extra staff members for Sunday. Vasques expects 300 people to attend and will start escorting people to the restaurant's outside terrace when the building reaches maximum capacity.
On a typical Sunday, Buffalo Wild Wings serves around 1,000 wings, but for the Super Bowl, Vasques expects to serve over 3,000 of them. He estimates 30 gallons of beer will be served on that day as well.
Super Bowl Sunday is the second largest food consumption day in America only after Thanksgiving, according to the Department of Agriculture. In fact, according to Nielson, $227 million will be spent on potato chips, $13 million on vegetable trays, $10 million on deli dips, $89 million on popcorn, and $58 million on deli sandwiches.
Over three fourths of Americans plan on enjoying beer during their Super Bowl festivities, a survey from the Beer Institute states. Additionally, the Beer Institute found 78 percent of those surveyed said drinking beer was an essential part of the Super Bowl experience with half of those saying beer was necessary to their Super Bowl celebration.
"Across the country, men and women will take a few hours this Sunday to enjoy good friends, good food, good football, and – of course – good beer," said Jim McGreevy, president and CEO of the Beer Institute. "Our nation's more than 5,600 brewers and beer importers are proud to be part of Super Bowl Sunday, and they have poured their talent and dedication into making sure each celebrant has the right beer for Sunday's game and future occasions throughout the year."
Sports Illustrated found, through its own survey, over half the country is rooting for the Rams. Arizona, according to the study, is siding with the Patriots.
"I'm actually kinda hoping to see the Rams win, I'm not going to lie," Anthony said. "It would be nice to see the titans dethroned."
Aside from sports bars in the greater Prescott area, visit dCourier.com's Kudos Nightlife calendar — https://www.dcourier.com/kudos-calendar/ — for other bars and saloons that have plans for the big game as well.
More like this story
SUBMIT FEEDBACK
Click Below to: