No. 10 Eagles outwrestle No. 9 Providence, complete 15-0 regular season
College Wrestling
Originally Published: February 1, 2019 10:12 p.m.
PRESCOTT — The No. 10 Embry-Riddle Eagles (14-0) have been nothing short of impressive this season and came into Friday's matchup with the No. 9 University of Providence Argos, looking to finish off a perfect dual-meet season.
As evident by the rankings, the two teams seemed equally matched, with nine total wrestlers being ranked in the top 20 of their respective weight classes.
However, the meet came down to the final four matches as it was tied at 16 before No. 14 ranked Kody Davis earned a pin victory and No. 8 ranked at 197 pounds, Eli Mason, got an entertaining 2-0 victory that ultimately gave the Eagles enough room to survive 25-23.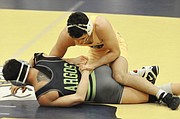 The Eagles opened strong Friday, possibly feeding off a fairly big crowd at Eagle Gym, to win three of the first four matches. With 125-pounder John Nira earning a victory via pin, David Salazar out pointing his opponent 10-2 and Berit Strugeon's forfeit victory.
However, after falling behind in the early going the Argos turned to their top ranked wrestlers, No. 5 Casey Dobson and No. 1 Adrian Lyons-Lopez who picked up crucial back-to-back wins to get the Argos back in the match and a chance to win down the stretch, but it wasn't to be.
Seniors Davis of Chino Valley and Mason were able to secure their wins and keep the Eagles at a perfect 15-0.
Coach, KC Rock was not overly excited about his team's performance Friday, however.
"I wish I could say I was more excited about (tonight's win)," coach Rock said. "That's a hard way to finish out the season. I'm super proud of the guys for an undefeated dual-meet season but it wasn't the way (we wanted to end it). (We didn't win) all the matches we planned on winning or wanted to win."
Rock added, "I'm proud of them and when you're in a college season and you're undefeated in dual-meets you're going to have a dual like that, that you win and it just happens to be the last one, which doesn't help it feel great."
SENIOR NIGHT
The Eagles' regular season came to an end Friday, meaning it was also the last time the seniors will have a chance to wrestle in front of their fans. The Eagles sported four seniors with Carlos Apodaca, Dylan Passalacqua, Davis and Mason all set for graduation.
"Carlos and Dylan were here the whole time with us so they've been staples in our program this whole time," Rock said. "Kody and Eli were transfers and both of them have been All-Americans for us so they've showed their worth to our program and our team. I'm sad to see them leave, they're going to be hard holes to fill."
UP NEXT
Friday's matchup against the Argos was the final regular season meet of the season for the Eagles who will now prepare themselves for the Cascade Collegiate Conference championships, Feb. 15-16, in Great Falls, Montana. The Eagles' performance there will dictate how many wrestlers advance to compete at NAIA wrestling championships on March 1-2 in Des Moines, Iowa.
Chris Whitcomb is a sports reporter for The Daily Courier. Follow him on Twitter at @AZChris32. Email him at cwhitcomb@prescottaz.com, or call 928-445-3333, ext. 2031.
More like this story
SUBMIT FEEDBACK
Click Below to: