End homelessness? Area nonprofit leaders, agencies think out-of-the-box for solutions
By
Nanci Hutson
|
HutsonNanci
Originally Published: February 1, 2019 9:15 p.m.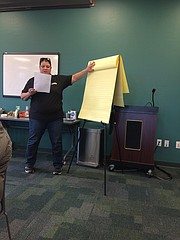 Finding a path out of homelessness is like navigating a labyrinth - unending twists, turns and dead ends.
Yet with time and patience a path through the daunting maze of challenges comes into view. A way out no longer seems impossible.
More than 35 Prescott nonprofit and civic leaders on Thursday admitted they are still somewhat entangled in some of those dark passages, yet have hope they are getting closer to the light.
In the course of the past year, leaders in the Collective Impact Partnership have witnessed a shift in thinking about emergency shelter versus a Housing First model of transitional, independent and congregate housing for once-homeless men and women. The focus is to move away from emergency shelter into independent housing with adequate supports so clients get the additional resources, such as counseling or addiction treatment, they need to remain living on their own.
The clear message at the meeting was that all entities involved with the homeless — be those involved with public transportation, housing, or mental health and addiction services — want to find lasting solutions that meet peoples' true needs rather than just serve as a stop-gap measure.
By the end of this year, collaborative leaders said they want to be closer to "functional zero" when it comes to homelessness. In other words, these leaders want to have an adequate supply of transitional, short- and long-term affordable housing suitable so no one is forced to depend on emergency shelter.
"We're not there yet, but we're getting closer," declared Carole Benedict, founder of the partnership and executive director for U.S. VETS.
BEYOND SHELTER
In November 2016, the Coalition for Compassion and Justice opened an indoor, emergency shelter — named "Stagger Straight" by the clientele — to offer "safe sleep" to as many as 55 men and women a night. It was not the only shelter, but was the largest, and the only one that allowed pets. The rules, too, allowed those who were not sober to sleep there as long as their behavior was not a threat or imposition to others.
The goal, though, for CCJ, and all the other nonprofit agencies that provide shelter for victims of domestic violence, women and children, families, and come March, a Prescott Valley shelter for up to five teen males, is to reacquaint their clients with the dignity of independence.
At the same time as the shelter opened, CCJ started up what is known as "Second Chance Housing," donated trailers and mobile homes turned into living spaces for one to two people.
To date, more than 30 people have benefited from this program, with about half now owning those homes.
In 2018, CCJ expanded that program with the addition of a single-family house suitable for three sleep cottages. That one property is now occupied by four people, one who acts as manager.
CCJ, too, forged a partnership last year with Dorn Homes that will enable the agency this summer to provide two, lodge-model affordable housing units for as many as eight of their homeless clients. This housing model offers the clients a private bedroom and bathroom with shared kitchen and living room space. Each person also has their own porch and separate entrance.

U.S. VETS this past year received federal funding to add 20 transitional units so that they now have 76 of those units that offer housing and case management for up to two years. They also added 15 units of specialty housing to medically fragile and older veterans.
Through their own public/private partnership, U.S. VETS this summer will move their entire complex to Whipple Street where they will add another 60 studio apartments to benefit homeless veterans on a first-priority basis.
WHAT'S NEXT?
For several years, the collaborative and its agency leaders have identified the need to establish a local housing authority. In the next three years, they hope they can establish either a city- or county-wide authority because without one the area is missing out on chances for federal grant opportunities to expand the affordable housing stock.
In partnership with CCJ, Benedict said her agency is seeking to obtain money so it could operate a permanent support housing program. U.S. VETS also wants to find money to open an affordable assisted living-style facility for about 20 senior homeless veterans.
Benedict, too, said she continues to seek landlords willing to work with agencies and their clients on housing options.
CCJ Executive Director Jessi Hans said she would like to find a space where they might be able to locate as many as six sleep cottages with bathroom facilities, creating a small communal neighborhood.
Her final proposal was one that several people applauded. She called it a "forever campground."
This would be outdoor space for tent and vehicle camping, with bathroom facilities, amenable to the chronically homeless who prefer to stay away from more conventional spaces. CCJ would assign a case manager with outdoor experience to assist the clients.
Such out-of-the-box thinking is what is necessary if Prescott is going to end homelessness as it exists today, several leaders said.
"Where do we get off telling people what their value systems should be?" queried Catholic Charities advocate Lynda Bennett.
More like this story
SUBMIT FEEDBACK
Click Below to: