Mayer superintendent, principal honored for his dual role, work to benefit community children
For his dual role and work to benefit community children

By
Nanci Hutson
|
HutsonNanci
Originally Published: December 7, 2019 8:09 p.m.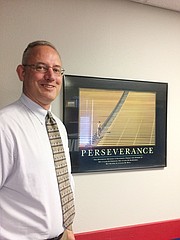 The last thing Mayer Unified School District Superintendent Dean Slaga seeks is the limelight.
The three-decade educator is always as a coach eager to shine the spotlight on his stars – students, faculty and staff, parents, grandparents, and other community partners.
And he calls many of them by name.
So it was with humble surprise Mayer's top administrator for the last decade accepted the honor as the 2019 All-Arizona Superintendent for Small Districts. Slaga was cited by Arizona School Administrators for his outstanding performance in serving in the dual role as superintendent and high school principal.
"I've known Dean a very long time," said Yavapai County Superintendent Tim Carter who nominated Slaga for the honor.
Carter said his admiration for Slaga is rooted in his positive attitude. He always expresses a willingness to tackle whatever tasks must be done to enable children to excel in the classroom, on the athletic fields or working on the school farm as part of its career and technical education program.
In 1999, Slaga won the Yavapai County Teacher of the Year award. The 15-year Humboldt Unified School District teacher and administrator left that district as an assistant superintendent to take the Mayer job.
Slaga, too, is a willing collaborator, whether it is working with a county technology consortium, a library network or in finding ways to rally the community around scholastic efforts that benefit their children, Carter said.
"I am continuously amazed at how much he is able to accomplish," Carter said.
Slaga, who with his wife, Mary, have three daughters, Shannon, Darian and Peyton, is one of 11 siblings from a family that valued education; his late father, Marion, was a 35-year educator in Chicago.
A strong student, the one-time high school athlete earned undergraduate degrees in math, business and computer science. He initially planned to work for a computer science company, but changed his mind after a summer camp experience.
His first teaching and coaching job was as a math teacher in a 79-student combined middle/high school in a small North Dakota town.
He loved it. And never looked back, he said.
In his career, Slaga has taught math and coached basketball, soccer, track, volleyball and football. His philosophy is all about helping students cross their finish line.
Slaga said he and his colleague Duncan regularly conversed about how to "keep kids believing in themselves" even when they appear blind to their future.
It is in those times, Slaga said when it is so important to remain a positive force so students are able to "grind" through the tough days.
On a recent morning, Slaga opened up his email to find a note from a student he taught 20 years earlier. Slaga admitted this was a student he had to ride to help him stay on track. Now married and in a successful career, the student sent the note to tell Slaga what a difference he made in his life.
"It was touching," Slaga concluded.
More like this story
SUBMIT FEEDBACK
Click Below to: