Need2Know: Spray-wrapping business Ace Customs LLC adds pop to cars' colors, shine
By
Doug Cook
|
dougout_dc
Originally Published: August 31, 2019 7:01 p.m.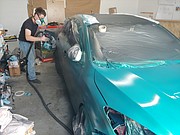 By morning, 19-year-old Jacob Kilian studies for his aerospace engineering courses at Embry-Riddle Aeronautical University in Prescott.
By afternoon, he works in a modest storage unit near Dewey spraying specialized liquid color wraps on automobiles.
By night? He's resting at home in Prescott with his wife, who's preparing to bring their first child into the world.
Killian's passionate about all three aspects of his life right now, but his entrepreneurial spirit recently kicked into high gear with the formation of his small business, Ace Customs LLC.
"I grew up working on cars," Kilian said Aug. 16 from his storage unit, where he was spray coating a customer's 400-horsepower Mazda Speed 3 hatchback autocross race car an eye-popping greenish-blue turquoise color. "Ironically, the summer before I left for high school, I swore off ever working on cars again.
"My dad really irritated me one day. I changed the spark plugs three times on a vehicle when it was done right the first time, because he didn't think it was done right. Go figure. About seven months into school, I bought my first project car. Since then, I just haven't stopped working on cars [the past two years]."
Originally from Phoenix, Kilian and his business partner, fellow Embry-Riddle student Ricky Dixon, who's in his 20s, have trained themselves in the fairly new skill of custom auto coatings, or removable polymer coatings. These coatings have a removable black polymer coating as a base. When the base dries, a color coating can be applied. Some colors come in powder form, like the pearls, and they are mixed into a clear polymer.
Kilian applies thinners mixed with pigments and polymers by using a spray gun. Each coat must dry before the next coat's applied. These coats blend and bond together to strengthen the overall coating.
Imperfections in the coating come with the territory. As you add more coats, runs start to blend together. Careful wet sanding can also help smooth out the finish.
"It's not paint, but it's put on exactly like it," Kilian said of the polymers, which play a dual role of improving aesthetics and protecting the permanent paint underneath.
HOT START
"We're working on expanding business from Flagstaff, Phoenix because really we're one of the few here in Arizona doing this professionally," said Kilian, adding that doing traditional wraps is often more lucrative. "There's one other gentleman I know who's down in Tucson who does it, but he's in the process of retiring."
Spray wrapping is kind of like tightly pulling a black plastic bag over your car's permanent paint job and temporarily changing its color. Liquid wraps peel off in sheets, unlike paint, which chips off.
"If you ever get sick of it on your car – you want to do a different color – peel it off," Kilian said. "It's a paint-protection system, really, with literally unlimited combinations."
Kilian started doing this work after realizing he wanted his Mazda RX8 sports car wrapped in blue.
Someone had quoted the job of applying a basic color at $3,000. A job using high-quality wrap materials would've cost him as much as $6,000.
Deciding it was too expensive, Killian watched tutorials about spray wrapping on the Internet and did it himself. He figures it's taken him a couple months to become proficient at wrapping.
"I had a blast [wrapping my car]," said Kilian, who's on active duty in the Navy. "I've been following this technology for a while."
Kilian says he charges $750 to coat a small car, such as a Honda CRX; $850 for a medium-sized car, such as a Camry; $1,200 for a large vehicle like the Mazda CX5; and $2,000-plus for an extra-large vehicle. Various different color coatings raise the price.
OFF & RUNNING
Kilian said his coatings supplier, DipYourCar, started in a storage unit just like his.
Today, DipYourCar's grown into a multi-million-dollar company, which has been liquid spray-wrapping cars for the past eight years. The owner and operator, who goes by the first name Fonzie, runs the distribution and the installation of the wet/powder wraps Kilian buys.
"There are areas [of the country] where it's a big deal and areas, like out here, where people go, 'What's that?' " Kilian added. "It's an emerging technology."
A booklet from DipYourCar, which Kilian has, shows 250 or more types of available colors for wrapping cars.
"I can go to other suppliers, do different pearls, things like that," Kilian said. "Literally, there's an infinite number of possibilities. I can custom mix colors."
It usually takes Kilian one to two days to prepare a car for a wrap, spray it with several coats of the black polymer and follow up with a few coats of color.
"My dream is to run a custom auto body shop – be an automotive design consultant," Kilian said. "I would work with supercar companies doing vehicle designs. So, this is part of that dream."
NEW LOCATION
At 11 a.m. Saturday, Sept. 7, Kilian's conducting a grand opening for Ace Customs LLC at its new facility on the backside of Sixth Street Business Park, 697 Sixth St., Unit 306, in Prescott.
Folks can stop by and watch vehicles get wrapped.
Kilian does jobs by appointment only because he needs a week of lead time to order materials and prep a vehicle. It's typically a three- to five-day turnaround per car.
Call Kilian at 520-508-5992, send an email to him at acecustomsliquidwrap@gmail.com, visit acecustomsllc.com, or log on to Instagram @acecustomsllc.
He said he'll shave 10% off any job through the end of his grand opening on Sept. 7.
"We're all here to have fun, drive and make some cool cars," Kilian added.
More like this story
SUBMIT FEEDBACK
Click Below to: