Fraud investigation leads to large drug bust, including nearly 200 fentanyl-laced pills

Originally Published: August 29, 2019 4:44 p.m.
A fraud investigation by Yavapai County Sheriff's Office deputies led to a large drug seizure by Partner's Against Narcotics Trafficking (PANT), including nearly 200 pills laced with fentanyl, according to a YCSO statement Thursday afternoon.
Lance Suer, 26, was arrested Aug. 23 on fraud charges for allegedly committing identity theft by opening up a credit card in someone else's name.
After deputies found drugs on Suer, deputies served a warrant on Suer house and found more drugs, including 189 pills marked "M/30," which are being presumed as pills laced with fentanyl.
"This type of cooperation between patrol deputies and our local police department officers with the Partner's Against Narcotics Trafficking task force (PANT), is typical of what happens throughout the year," YCSO spokesperson Dwight D'Evelyn said in a statement. "The multi-agency task force brings expertise and personnel to help take down dealers like this. The patrol deputy, in this case, did a great job on the initial investigation while sharing insight with PANT on his case."
FRAUD
In late July, YCSO deputies were dispatched to a home in the 600 block of Armetta Drive in Camp Verde regarding a fraud complaint.
The victim suspected that 26-year-old Lance Suer was committing identity theft and had opened up a credit card in his, the victim's, name. Suer was residing on Teepee Terrace in Rimrock where the victim was still receiving mail.
The victim alleged that Lance received a credit card offer and opened an account in his name. Deputies obtained a credit card statement showing most of the purchases were in the Rimrock area. The current bill was nearly $300.
During the following week, deputies obtained security video stills from some of the stores where the credit card was used. The suspect using the card matched Suer's description. During the early part of August, Suer could not be found.
Finally, on Aug. 23, deputies located Suer at the Teepee Terrace home and arrested him on fraud charges. Suer admitted to opening the credit card account and using the card in the area to buy gas, food, and cigarettes. Suer was still in possession of the card, which was recovered.
During the arrest, Suer was in possession of two grams of methamphetamine found in his right front pocket and he was additionally charged with possession of a dangerous drug.
Suer was booked into the Camp Verde Detention Center on fraud and drug charges.
DRUGS
Detectives from PANT contacted the arresting deputy after learning of his investigation. PANT detectives already had general knowledge from the public that Suer was involved in ongoing drug sales from the Teepee Terrace home.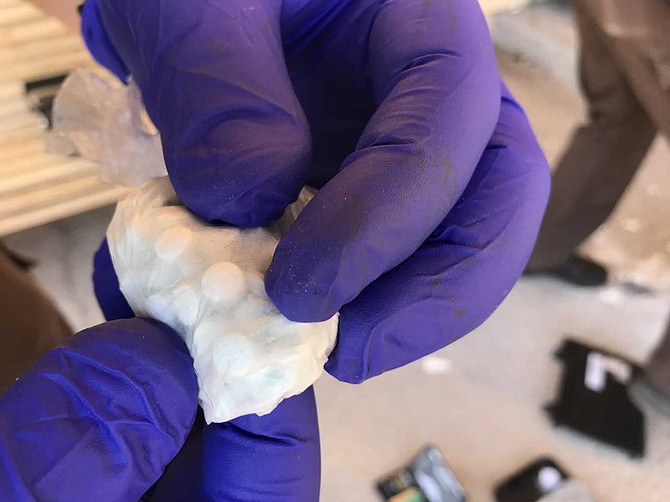 Based on the investigation by the YCSO patrol deputy and the recovery of drugs from Suer, PANT detectives sought and obtained a search warrant for the Teepee Terrace home.
On Aug. 23, in the early afternoon, PANT detectives served the warrant. At the time, the home was unoccupied. The arresting deputy was also present and identified Suer's room to search detectives.
In his room, detectives found a methamphetamine 'bong,' and a plastic bag containing three pills marked 'M/30' presumed to be fentanyl. When a safe in the bedroom was opened, detectives recovered 1/2 ounce of heroin, 1/2 ounce of cocaine, 13 LSD tabs, 189 pills marked 'M/30,' which is presumed fentanyl based on marking and appearance, and 13 fake Zanax pills suspected to fentanyl.
Detectives estimate a street value on the pills of $4,000, $1,700 for the heroin, and $1,800 for the cocaine.
Suer was additionally charged with four counts possession of Narcotic Drugs for Sale. He remains in-custody on a $50,000 bond.

Information provided by the Yavapai County Sheriff's Office.
Share #StopFentanylNow
SUBMIT FEEDBACK
Click Below to:
More like this story