Humboldt elementary students can join orchestra
Instruments, donations needed: violins, violas, cellos

Originally Published: August 27, 2019 9:02 p.m.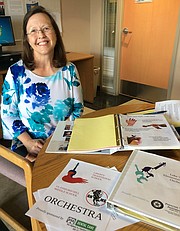 Fifth- and sixth-graders at four elementary schools can now learn stringed instruments and play in orchestras in the Humboldt Unified School District. At Liberty Traditional School, participation extends to seventh- and eighth-graders.
In one short year, beginning with a pilot program at Granville Elementary School this past year, enrollment in the school's orchestra program grew from the initial 17 students to 29, and total enrollment at all four schools is 101 this year.
Paula Stewart, volunteer orchestra program leader, taught at Granville last year, and is looking for teachers and others to help, as student interest surpassed her expectations. She said she had figured on about 50 to 60 students, not 100.
Funding for the program is possible through student participation fees, and donations by businesses, charitable organizations and individuals.
"All of this is being done through HUSD, with no direct expense to the district, thanks to the generous support of business sponsors, community donors and the Humboldt Education Foundation," Stewart said.
Not every student has access to instruments or fees, and contributions and sponsorships help with scholarship options for families.
Stewart retired from a career teaching stringed instruments in Minnesota where she also acquired experience in starting a school orchestra program at no cost. Parents there were willing to pay a nominal participation fee and instrument rental.
"Here, we are more dependent on help where families can't afford the fees," she said.
When Stewart approached leaders in the school district, she said, Trudy Gruver, Bradshaw Mountain High School band director, said, "We need a feeder program."
"Superintendent Dan Streeter said, 'We want this.' The Liberty Traditional parents said, 'We want that,' and (Glassford Hill Middle School Principal) Melissa Tannehill said, 'We want this in the middle school,'" Stewart said.
She is looking for donations to buy instruments and some one-time items such as student notebooks, anchor pins for cellos, tuners and music stands. Two businesses have signed on as sponsors. Jason and Britta Bennion with 89A Dental Care for Liberty Traditional, who provided the foundation for the program at that school, and also some funding for scholarships.
Then Prescott Valley Body and Paint sponsored the Lake Valley program. Together with an anonymous donor, the school received 18 instruments donated over the summer.
Coyote Springs Elementary School had a before-school violin program years ago, and those instruments are now part of the orchestra program at the four other schools.
Brenda Olsen with the Prescott Pops Symphony donated notebooks in Lake Valley's school colors. Each notebook contains listening assignments, music and practice sheets — the minimum requirement is 10 minutes of practice five times a week. "We teach them that if they practice a little bit each day, they can accomplish great things," Stewart said.
To give an idea of what it costs to provide instruments for a school orchestra, Stewart said a new child-sized violin runs about $450, and up to $1,200 for a cello. She works with a company in Phoenix, Stradivari House, for rentals, repairs and purchases, as well as scouring local shops and Craigslist for good quality instruments.
Studies prove that playing a stringed instrument — any instrument, actually — helps children develop not just musical skills and an appreciation for music, but life skills as well — time management, problem solving, working within a group, memorization, coordination, preparation and persistence, self-discipline and how to deal with performance anxiety.
The first couple years, Stewart said, she focuses on the fun and enthusiasm for learning to play an instrument. "After that — we still have fun — we work the kids really hard on skills."
Granville orchestra students put on 10 performances during the past school year, including Glassford Place Senior Living, Prescott Valley Arts Festival, and before the HUSD Governing Board.
She is hopeful that the program will evolve to have a major, positive impact on families throughout the community. Based on the response, that already is happening.
Prescott Chamber Orchestra donated tickets to its concerts to Granville students. Emmy Kidman, a former Minnesota violin student of Stewart's and now visual artist, created the logos for each school's program, integrating the school's mascot and colors.
A Granville parent's donation purchased 11 sturdy used music stands which a California moving company paid to dismantle, lubricate, pack and ship to Prescott Valley. Prestige Security Doors stripped and powder- coated the stands, and Prescott Valley Body and Paint helped with the painting.
"It's all been done by community people who are saying, 'How can I help?'" Stewart said.
Here are additional ways:
• Donate unused violins, violas, cellos, bows, cases or other equipment — especially needed are youth sizes.
• Contribute to individual schools or to the Humboldt Education Foundation (write "school orchestra program" on the check's memo line); both will give a receipt to deduct the amount from 2019 taxes through the Arizona Tax Credit program.
• Skilled string players are needed to help teach and direct.
• Volunteer as a mentor or assistant.
"It wouldn't take much as a community to pull it off," Stewart said.
For more information, call Paula Stewart at 507-222-9196, email paulastewart2t@gmail.com or contact the Humboldt Education Foundation at educationfoundation.husd@commspeed.net or call 928-848-6757.
More like this story
SUBMIT FEEDBACK
Click Below to: