Arizona Department of Housing gives award to Prescott Valley Boys & Girls Club
Honored as outstanding grant funded project

Originally Published: August 27, 2019 8:46 p.m.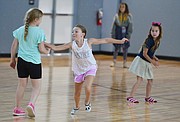 A Community Development Block Grant has made a big difference for Prescott Valley families and for the expansion project of the Prescott Valley Boys & Girls Club. Without the grant, the expansion may have only included an add-on to the existing building, said Nicole Kennedy, interim executive director of the Boys & Girls Clubs of Central Arizona.
"Because of the scope and size of the gift, we were able to build something that was greater than originally hoped," she said.
On Aug. 21, Kennedy and Ryan Judy, Prescott Valley's deputy town manager, accepted the 2019 Brian Mickelsen Housing Hero Award for Outstanding State Administered Community Development Block Grant (CDBG) Funded Project from the Arizona Department of Housing at its recognition ceremony in Scottsdale.
The newly constructed facility doubled the club's size and includes a new NBA-sized gym, training room, restrooms and foyer for a total of 10,300 square feet. In addition to the CDBG funds, the project received donations from the Fain Signature Group, the Massie Foundation, Phoenix Suns Charities, and from several entities that donated materials to the project, including lighting, windows and lumber.
Judy, who attended the ceremony, said the facility is already being heavily used by children in the club.
The awards, named in honor of the outstanding public service exemplified by the late Brian Mickelsen, an original member of the Arizona Housing Finance Authority and the city manager for the Town of Cottonwood, recognize outstanding achievements by nominees in eight categories.
The PV Boys & Girls Club was the only organization from Yavapai County to win a 2019 Brian Mickelsen Housing Hero Award. Others include a senior living housing project in South Phoenix, a multifamily apartment project in San Luis and a senior multifamily project in Tucson.
"It is exciting," Kennedy said, adding that the new gym is not only a great space for children, but for community use through intramural sports programs, and as a practice space for the Northern Arizona Suns. "So it's great for the whole community."
A grand opening for the public will take place in November, Kennedy said.
"It is gratifying to be recognized by the funding agency for the hard work and dedication of all the staff and the services provided by the Boys and Girls Club to Prescott Valley," Town Manager Larry Tarkowski said.
More like this story
SUBMIT FEEDBACK
Click Below to: