Veteran walking across America: 10 million steps
Stops in Prescott to raise awareness for fellow vets

By
Nanci Hutson
|
HutsonNanci
Originally Published: August 20, 2019 8:09 p.m.
At 71 years old, Vietnam-era United States Air Force veteran and four-decade educational leader William Shuttleworth is walking across America to raise money to care for veterans in all communities.
The sun-tanned, fit-and-trim, bespectacled father and grandfather with gray hair walks fast, and talks faster. Of course, Shuttleworth is a man on a mission — he intends to raise $100,000 to benefit veterans by the end of his sojourn expected to conclude at the USS Midway in San Diego on Labor Day weekend.
He passed through Prescott on Sunday — he is approaching 10 million steps on the trek he started from his Newburyport, Mass., home on May 15. He has a map on which he tracks where he has been and where he is headed. After some 2,100 miles of his 3,000-mile journey, he is sporting his fifth pair of sneakers/hiking shoes — his current pair are all black.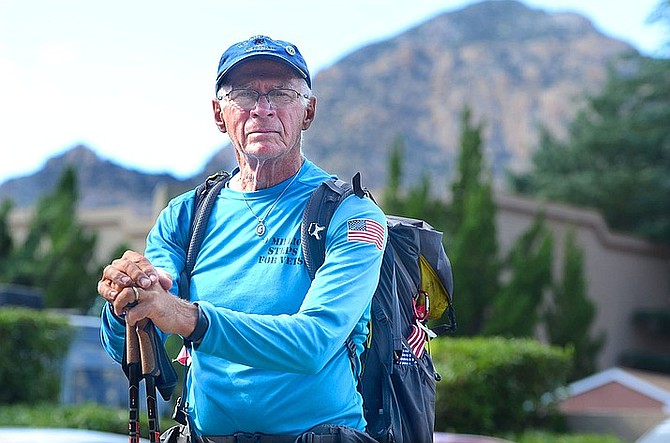 Shuttleworth arrived in the city limits from the direction of Jerome, and after chatting with some local veterans expecting his arrival, headed to Yarnell.
He then made what he suggests is a rare detour, returning to Prescott's historic Hassayampa Inn on Monday afternoon to meet up with a small group of veteran and civic leaders impressed with his brand of activism.
Shuttleworth's entire trek is aimed at raising awareness about the plight of many veterans, be it their need for enhanced physical and mental health care, high suicide and addiction rates, homelessness or risk of it for lack of affordable housing. He carries a cellphone to answer media inquiries, and is happy to visit with any veteran or civic group interested in his outreach to benefit America's true, but oft-forgotten heroes.
"I call him the 71-year-old Forrest Gump," said Phil Goode, a Prescott City Council member and United States Army and Vietnam War veteran.
"I think it's just remarkable that a veteran would walk across the United States to bring public awareness to serious veteran issues," said Goode, an officer with the Veterans of Foreign War Buckey O'Neill Post 541 who, too, is a champion of veterans' rights and health issues.
Goode said Shuttleworth was pleased to learn that Prescott is a veteran-centric community committed to working on issues that impact veterans, be that homelessness or mental health and addiction care.
"I love Prescott. I've been here before," Shuttleworth said. "It's a beautiful city. And I'm impressed with how many good things you all are doing for veterans in this city."
Beyond the local VA that serves 29,000 veterans across northern Arizona, Prescott has several other veteran-focused organizations committed to offering these men and women the resources they need to be productive and comfortable in their civilian lives. Though there may be room for improvement anywhere, Shuttleworth said he appreciates that this city respects and strives to honor its veterans.
Shuttleworth's decision to embark on this journey was sparked a summer ago when he was serving as a camp scout at a state park not from the ritzy, Malibu beach community. At that park, Shuttleworth said he became acquainted with the struggles of homeless veterans. He pondered what he could do. In conversations with his wife, Patti, his behind-the-scenes cheerleader and blog poster, Shuttleworth opted to strap on a 32-pound backpack and, with the help of only hiking poles and the kindness of friends, family and a big supply of strangers, start a coast-to-coast conversation about veterans needs.
To date, Shuttleworth's GoFundMe page has raised almost $52,000 of a $100,000 goal to benefit disabled veterans, whether they just returned from active duty or are suffering the aftermath of combat duties several decades ago.
"I think you have an obligation to give back to the world," said Shuttleworth, who before retirement to Massachusetts worked as a special education teacher in Maine and then as a district school superintendent for about two decades. "Service to me is more important to me than taking."
VFW Post Commander Alfonso Lucero said he appreciates the sacrifice Shuttleworth is making on behalf of veterans across America.
"I think he sets a very good example for others to follow," Lucero said.
"Utterly remarkable," Goode concluded.
For information about Shuttleworth's walk across America, visit www.vetsdontforgetvets.com.
More like this story
SUBMIT FEEDBACK
Click Below to: