Amazing Places: Unusual petroglyphs

Originally Published: August 17, 2019 7:35 p.m.
Two weeks ago, I was planning to tell you about some interesting petroglyphs but something else came up instead. So, today it's back to those petroglyphs.
Petroglyphs are quite common in Arizona and in many other states in the Southwest. In fact, they are found all over the world. They're usually created using a hammer and chisel — of stone, not metal. The hammer was a rock that would fit into the hand of the artist, and the chisel was another rock with a sharp point. The artist would hammer the chisel into a selected rock surface to make a small hole or dot.
By repeating this action, the artist would a rrange the dots close together to form lines or shapes. I use the word "artist" because this wasn't a random act, but the careful creation of a skilled and dedicated person.
The selected surface for drawing a petroglyph would have a patina like desert varnish. This was a thin darker layer that had formed naturally on the rock over the centuries. When the patina was removed, the underlying rock would usually be a lighter color, accentuating the incised petroglyph shape.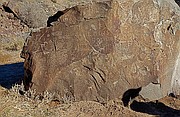 Petroglyphs had significance to the Indian tribe that made them — maybe religious, maybe directions. Petroglyphs are almost always prehistoric, usually dating back hundreds or thousands of years. Some petroglyphs are symbols (e.g., circles or crosses), some are anthropomorphic (in the form of a human), some are zoomorphic (in the form of an animal, e.g., a deer or bird). If you have explored a little off the beaten track, or read articles, you know what I'm talking about.

Usually petroglyphs come in groups on a large boulder or along a cliff face, and are only a few inches in size. Occasionally they are much larger, almost life size, and that is the case for today. The first photo here shows a large boulder more than two feet across with just one petroglyph — a pregnant deer. This boulder was one of many at the bottom of a steep cliff. There was a watercourse nearby, and a large open pasture between the cliff and the watercourse (that still flows today). I'm guessing that the local Indians hunted here and this petroglyph was an offering to their gods that the deer would flourish and provide them food. A second large boulder is right next to the first, with another pregnant deer with an even bigger belly. The Indians must have been really hungry and hopeful, though perhaps the second deer was inscribed in a different year.

There are other more normal petroglyphs nearby. In the middle of the pasture, there's one huge boulder over 6 feet tall, but no others. The second photo shows one side of it with many petroglyphs — perhaps the circular symbols show the pueblo where they lived. You can also see the result of vandalism — Rob and Louis and Nik just couldn't resist desecrating this boulder. This is a crime; so if you ever see vandals in action, report them but stay safe. I wish I could to travel in time – not into the future, but into the past. Then I would be able to magically talk with the tribe and its artists, and find out their motivations and beliefs. This magic would also allow us to understand each other's different languages.
I'm not going to give you the location of today's Amazing Places because you would have to cross both private land and State Trust Land to get there. I've spoken to the owner and he doesn't mind people crossing his land but doesn't want it to be publicized. If you already know of this place, fine — but if not, I will respect the owner's wishes.
Nigel Reynolds (nigelaa@commspeed.net) was born in England and has lived in Arizona for 40 years, and in Prescott for over 20 years. "Exploring is in my blood," he says. To see today's or previous columns with the photos in color, visit dCourier.com and enter "Amazing Places" in the search-bar at top right — you'll need to be a subscriber.
SUBMIT FEEDBACK
Click Below to:
More like this story