Chino Valley Teen Center reopens
Reopening not possible without community partnerships, interim executive director says

Originally Published: August 13, 2019 9:42 p.m.
After closing its doors for the second semester of last school year, the Boys & Girls Club of Central Arizona's Chino Valley Teen Center is open once more.
"That was really because we realized that the ideal … age to start a teen program is in middle school," Boys & Girls Club of Central Arizona Interim Executive Director Nicole Kennedy said. "We just took a semester to kind of regroup and reset and rethink our programming and our strategy."
Located at 1527 N. Road 1 East, the Chino Valley Teen Center reopened Monday, Aug. 12, after an open house and registration Aug. 6 and a program that was held over the summer for middle school youth.
It's exciting to be able to provide a place for kids to go after school and in the summertime, Kennedy said.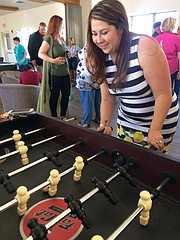 Before the temporary closure, it was called the Chino Valley Teen Club. Opening in January 2018 for high school students following a 10-year lease agreement approved by the Chino Valley Town Council in September 2017, the Boys & Girls Club of Central Arizona was able to rent the community center for $1.
On Thursday, Kennedy said she wanted to thank everyone who came together to make the Chino Valley Teen Center possible. The organization couldn't do anything if it weren't for the partnerships between the town and the Chino Valley Unified School District, she added.
The success of the Boys & Girls Club is also the success of the school district, Chino Valley Unified School District Superintendent John Scholl said.
"I really think they go hand-in-hand," Scholl said.
Citing a research study, Heritage Middle School Julie Bryce said that students who participate in Boys & Girls Club test better in reading and math and improve in their classroom behavior and attendance.
For high school students, it decreases the likelihood of them dropping out as well as reduces drug use and criminal behavior by giving students a place to go after school, Bryce said.
The Boys & Girls Club also benefits businesses and parents because by offering a safe place for kids to go to after school, parents are able to work and provide for their families, she said.
"That's huge," Bryce said. "With parents being able to work, that helps the businesses which helps the community as a whole."
Teens must be registered to attend the Chino Valley Teen Center which can be done by calling Interim Director of Club Operations Kelli Cooley at 928-776-8686 or by emailing Cooley at kcooley@bgccaz.org.
Registration is a $15 membership fee and $35 for the 2019-20 school year. Scholarships are available.
Open from 3:15 to 6:30 p.m. Monday through Thursday for middle- and high-school students, the Chino Valley Teen Center gives students access to games, a multimedia club, free time, homework assistance, an Xbox, a pool table, movies, food and fun. Transportation is provided from Heritage Middle School and Chino Valley High School.
It's wonderful that teens have a place to learn the skills they need and to be with other people, Mayor Darryl Croft said.
"We need something for our young folks out here," Croft said.
For more information about the Boys & Girls Club of Central Arizona, visit www.bgccaz.org.
SUBMIT FEEDBACK
Click Below to:
More like this story