Ask the Contractor: Costs to climb for AC fixes with R22 phaseout
Originally Published: August 8, 2019 6:16 p.m.
What exactly is going on with R22 refrigerant? Our cooling system uses R22 and we have been told that this type of refrigerant is not going to be made any longer after January 2020. — Ed and Michelle, Prescott
Here are the facts on R22. If your air conditioner uses R22 refrigerant, it's time to consider a replacement strategy. The former industry-standard, R22 refrigerant (also known as Freon) is being phased out worldwide because of its harmful effects on the ozone layer. R22 is a greenhouse gas that contributes to the depletion of the Earth's ozone and to global warming, and we rely on the ozone to absorb harmful UV radiation.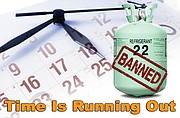 The U.S. Environmental Protection Agency has mandated that R22 refrigerant will become illegal in the United States on Jan. 1, 2020. After this phaseout date, R22 refrigerant can no longer be manufactured or imported into the United States. The only way to acquire R22 will be through recycled or stockpiled supplies, which will rapidly cause repairs on existing equipment to become extremely expensive.
Does my system use R22?
Look on the data plate on the outdoor unit, or your indoor coil that sits in front of, or on top of, your furnace. Most air conditioning systems state 'HCFC-22', (the chemical name, hydrochlorofluorocarbon 22 (HCFC-22) and an amount in ounces and/or pounds will be listed on the data plate. The R22 refrigerant phase out impacts systems manufactured up to Jan. 1, 2010. As of Jan. 1, 2010, R22 systems were no longer manufactured.

Do I have to replace my unit prior to Jan. 1, 2020?
Not necessarily. You can certainly continue to use your system until the point in time it needs replacing and/or fails. If your system develops a refrigerant leak, you should start to evaluate options for replacement.
What if I'm not having any problems?
As long as your heating and cooling system is being properly maintained, you shouldn't need to add any refrigerant. Professional maintenance and regular service helps to maintain your system.
In short, if you have been limping along with your older R22 air conditioner and hoping to avoid replacing, especially if you know your unit has a refrigerant leak, you might want to consider a new unit.
What's a safer alternative to R22?
All air conditioners and cooling equipment currently being manufactured use hydro-fluorocarbon (HFC) refrigerants. R410A is the most common, but others include R134a, R407C and R407A. These refrigerants cool interior spaces just as effectively as R22 with no ozone depleting characteristics and relatively low Global Warming Potential (GWP).
Can R410A be used in an R22 air conditioner?
No. R22-charged units are not compatible with R-410 refrigerant. Using the wrong refrigerant can result in failure of your air conditioning system.
What does the R22 phase out timeline mean for you?
After R22 becomes illegal on Jan. 1, 2020, it will become much more difficult (and expensive) to obtain R22. As a result, repairing older R22 systems will become very expensive when the repair requires adding refrigerant to the system.

We have come up with three choices:
1) Do nothing until your system needs repair.
2) Install a new system: To save money on future repairs and do your part for the environment, consider replacing your air conditioner sooner rather than later, especially if the equipment is already 10 years or older. Newer systems use acceptable refrigerants, such as R410, and have the added benefit of increasing the resale value of your home.
3) I do not know the answer to this — can a current system that uses R22 be converted? This is a question for you to ask your HVAC companies and whether it technically feasible. If you currently have a system that has refrigerant leaks, a trustworthy expert probably would not recommend spending the money to retrofit.
For the time being, you can still get R22 and fix a broken system, but the skyrocketing cost of the refrigerant as availability decreases will mean a very expensive repair, and R22 will only get more expensive the closer we get to Jan. 1, 2020, when R22 becomes illegal to manufacture or import.
Is it worthwhile to pour so much into a system in poor condition that must be replaced soon? That's the choice you'll need to make.
There are "drop-in" refrigerants that can be used in place of R22. Most work okay but will result in decreased reliability and performance. For this reason, you should use drop-ins only for quick, temporary repairs and have a different long-term replacement plan in mind.
Remember to tune in to YCCA's Hammer Time every Saturday and Sunday morning at 7 on KQNA 1130 AM, 99.9 FM, 95.5 FM or the web at kqna.com. Listen to Sandy and Mike talk about the construction industry meet your local community partners and so much more. What a great way to start your weekend.
More like this story
SUBMIT FEEDBACK
Click Below to: