Ready for school: Chino Valley kids meet their teachers before the first day of class
Originally Published: August 6, 2019 8:34 p.m.
Thursday, Aug. 1, was a big day for Wyatt Macilroy. Not only was it his 6th birthday, but he also was meeting Lizzy Kreitinger, his first-grade teacher at Territorial Early Childhood Center, and seeing her classroom for the first time.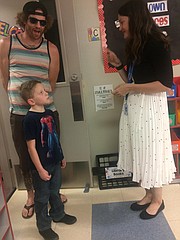 "I don't know if either one of us are ready," said his mother, Marilee Macilroy. "He's ready to start, I guess. Ready to make some new friends … I'm never ready to give him away."
While the Chino Valley Unified School District had its first day of school Monday, Aug. 5, students were able to visit their teachers last Thursday during the district's Meet the Teacher event and see their classrooms for the upcoming school year.
Meet the Teacher, which has been an annual event in the district for a number of years, helps in easing concerns of both parents and students, said Territorial Early Childhood Center Principal Brandy Cox.
"They've seen the classroom, they've gotten a lot of the stuff, we know where they're going after school," Cox said. "They've already been here, which helps them be calmer."

Scarlett Gonzales, also in Kreitinger's room, indicated she was excited for the first day of school. Her mother, Vanessa Gonzales, said she was relieved for the first day of classes to arrive, because the summer had been pretty rough, but the school year's arrival also was nerve wracking. She knows her children will be in a safe environment, but she doesn't like being away from them, she said, adding that her daughter is a reserved and shy child who doesn't open up right away.
Between greeting all the kids who were going to be in her room for the year, Kreitinger said the summer is always a nice break, but she always gets excited when the first day of school rolls around.
She also has a little bit of nervousness that first day, too, because there are 24 kids who don't know her very well and she is trying to make sure they all are OK and feel welcome and safe, she said.

The first day usually consists of getting their supplies organized, having them decorate a nametag for the classroom, going over classroom rules and doing an activity that involves reading David Shannon's book "David Goes to School" and talking about things they should and shouldn't do in school.
"That's usually as much as we make it. It's a lot of stuff," Kreitinger said. "You don't sleep well the night before and then you sleep really well the night after."
More like this story
SUBMIT FEEDBACK
Click Below to: