Prescott High grad is Chino Valley's new economic development project manager
She lives in town, has background in commercial real estate

Originally Published: April 30, 2019 3:58 p.m.
Maggie Tidaback said remembers going to Olsen's Grain with her father when she was a kid to get feed for their horses.
Back then, there really wasn't anything out in Chino Valley, but over the years she's seen it grow, said Tidaback, the town's new economic development project manager.
A graduate of Prescott High School and resident of Chino Valley, she comes to the position with a background in commercial real estate, Town Manager Cecilia Grittman said.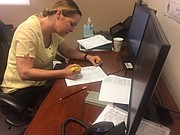 "She's got a lot of good connections in the community."
Tidaback started working in the position Monday, April 22. It's her first foray into government and she said that, while she knows the development side because of her background, she's been learning the processes as she goes.
There are a few items on her agenda already, such as the business park and multi-family housing, Tidaback said. She's working on a new grocery store for the town as well, she said.
"I'm looking at a couple right now that I'm going to be contacting," Tidaback said. "I'll be working with a local commercial real estate agent on some land that she has to put it there."
As a mix-use development, the business park will shape itself as it goes along and hopefully will have an assortment of offices, restaurants and entertainment, she said. Additionally with the age gap in Chino Valley being from 18 to 35, multi-family housing is needed in order to bring people in, have somewhere where they can live and keep them in town so they can spend their money, Tidaback added.
Another thing she'd really like to see in Chino Valley is a bowling alley, which would be something that would give teens and parents something to do, she said. There has to be something entertainment-wise to give everyone in town something to do.
She's also been directed to work with ADOT on signage and getting some directional signs to businesses so they can draw more people in, she said, adding that currently, offsite signage is not allowed.
There does have to be a balancing act, though, when it comes to creating jobs, housing and more things to do in Chino Valley while at the same time keeping the town's rural environment, she said.
Still, seeing how Chino Valley has grown to where it is now makes a difference, Tidaback said.
"You have more passion about it when you're from an area because it means something to you," she said. "This is my home."
More like this story
SUBMIT FEEDBACK
Click Below to: