Roughrider Encarnacion-Strand named ACCAC Player of the Year
Junior College Baseball

Originally Published: April 29, 2019 8:42 p.m.
Updated as of Tuesday, April 30, 2019 6 AM
Freshman is 9th player in Yavapai College baseball history to win award
PRESCOTT — After tearing up the league hitting .398 with 19 home runs and 63 RBIs, ACCAC coaches named Yavapai College freshman Christian Encarnacion-Strand the 2019 ACCAC Player of the Year on Monday.
The Pleasant Hill, California, native led the league in batting average, home runs, RBIs, slugging percentage (.823) and doubles (18) this season.
The Roughrider third baseman is two off the pace for most home runs in the nation, trailing only Cael Baker of Wabash Valley, who leads the NJCAA with 21.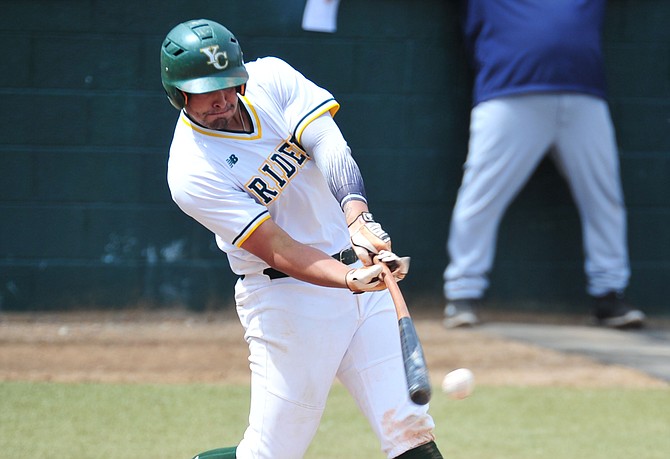 When asked what it was like when finding out he was named ACCAC Player of the Year, Encarnacion-Strand admitted he was "surprised."
"I was surprised to win Player of the Year because there is so much talent in our conference," Encarnacion-Strand said. "It felt good when I heard the news because it shows me that I have been putting in proper training to be the best player I can be."
HISTORY
Encarnacion-Strand is one of nine players all-time to receive the award as a Roughrider, with Willie Calhoun (2015), Evan LeBlanc (2006) and Kyle Blanks (2005) winning it most recently.
Blanks played eight seasons in Major League Baseball from 2009-2015, and Calhoun received his first call up to the show by the Texas Rangers in 2017 and is currently on the club's 40-man roster.
Billy Hatcher, who won the award as a Roughrider in 1981, played 12 big league seasons for the Chicago Cubs, Houston Astros and Boston Red Sox, among others.
ALL-ACCAC
In addition to Encarnacion-Strand being named ACCAC Player of the Year and receiving the nod as a first-team All-ACCAC performer, four other Roughriders were named to the All-ACCAC team.
Tommy Sacco and Matt Novis were named first-team All-ACCAC performers, while Trey Morrill and Gianni Tomasi were named second-team All-ACCAC.
UP NEXT
The Roughriders (34-16, 24-14 ACCAC) head to the playoffs as a No. 3 seed in the upcoming Region I Tournament scheduled to begin later this week.
Yavapai is set to begin a best-of-three series with South Mountain Community College (38-18, 25-13 ACCAC) on Thursday, May 2, in Phoenix.
Game one Thursday is set for a 2 p.m. first pitch, as is Friday's game two. Game three, if necessary, will take place at noon Saturday.
Yavapai is 3-2 against the Cougars this season.
Brian M. Bergner Jr. is news/sports editor for The Daily Courier of Prescott News Network. Follow him on Twitter, Facebook, Instagram and SoundCloud at @TheEditorDesk. Email bbergner@prescottaz.com or call 928-445-3333, ext. 1106.
More like this story
SUBMIT FEEDBACK
Click Below to: