8-year-old Ohio boy's quick thinking saved him, sister from attempted kidnapping

Originally Published: April 29, 2019 11:16 p.m.
MIDDLETON, Ohio — An 8-year-old is being called a hero after he helped his older sister escape a potential kidnapper at an Ohio hospital Thursday.
According to police, the children, 8-year-old Chance and his 10-year-old sister Skyler, were traveling with their grandmother on Thursday afternoon to the Atrium Medical Center in Middletown. Their grandmother, 69-year-old Nita Coburn, parked the car outside a hospital emergency room entrance and helped a friend toward the door.
Coburn told police she thought she had locked the car doors. However, a safety feature prevented the doors from locking because the keys were still inside.
About 10 seconds after Coburn left the car a stranger, 24-year-old Dalvir Singh, climbed in and attempted to drive away with the children still inside, police said.
"The little boy opened the door to escape and the little girl started to jump out also but the man grabbed the hoodie of the little girl not allowing her to leave," police wrote on Facebook Friday. "As she tried to get away, her little brother grabbed hold of her and pulled her away from the kidnapper and they both tumbled out of the vehicle as it was moving."
Surveillance footage shows Singh driving away while Coburn runs after the car. She told police she didn't care about anything inside the car except the children.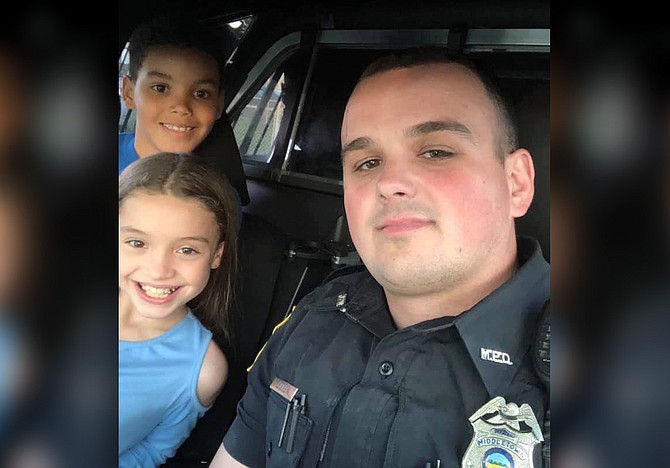 The kidnapping suspect didn't get far. Officers located the car blocks away and arrested Singh, who is now charged with two counts of kidnapping, felonious assault and grand theft.
"What Chance did was extremely heroic," Middletown police Officer Connor Kirby told the media on Friday. "It shows how extremely brave he was and how much he loves his sister."
Singh was being held at the Middletown City Jail.
SUBMIT FEEDBACK
Click Below to:
More like this story