A second chance: CCJ partners with Dorn Homes to house those in need

By
Nanci Hutson
|
HutsonNanci
Originally Published: April 28, 2019 8:50 p.m.
EDITOR'S NOTE: To see a related story about the CCJ program, click here.
A pretty spring day prompted Shirley Hollingsworth to grab a garden hose from behind her light tan and brown-trim, single-wide trailer and water fledgling plants growing in her patio flower bed.
A far cry from days not far from her memory when she dreaded, rather than welcomed, time outdoors.
Until 18 months ago, the 57-year-old woman was one of this area's chronically homeless.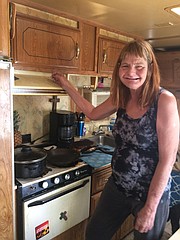 A lack of money, support and illness culminated such that she spent some 15 years struggling almost daily to figure out her next meal, shower and safe place to sleep. She eventually ended up as one of the first clients at the Coalition for Compassion and Justice' emergency shelter on Madison Avenue.
Not too longer after that, Shirley was tapped as one of the first shelter clients to participate in CCJ's then fledgling Second Chance Housing program. CCJ was donated a handful of former recreational trailers to be renovate into single-occupancy rentals for shelter clients.
Shirley was thrilled. All she had to do was find a mobile home lot she could afford. It took about a month to find a space in a quiet park off Iron Springs Road – she pays $400 a month for her corner slice of the American dream.
"I'm so very grateful," Hollingswoth said. "I treat it like it's my mansion."
MISSION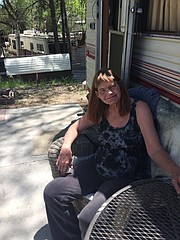 Shirley is one of about 30 CCJ Second Chance housing clients who without this chance might still be sleeping in the shelter or fending for themselves in the woods. They are men and women who might never be selected through a standard apartment application process even if the rental price was right.
And CCJ is looking to do even more.
The non-profit charity that accepts no federal, state or taxpayer funding has forged a partnership with Dorn Homes for two lodge-model homes that will house between eight and 12 once homeless men and women. Dorn Homes is not only covering the $350,000 construction cost but is also spearheading a fundraising campaign to help reimburse those costs.
CCJ board member and benefactor Howard Mechanic is also a loyal housing supporter – he is behind the agency's thrift store, shelter operation and the new cottage model on a single-home downtown property he bought. The three cottages behind a house occupied by a once-homeless couple with toilet/shower facilities cost $6,000 each to build.
CCJ, too, has at least 10 rental mobile homes, as well as 15 to 20 now owned by former clients.
SPREADING THE WORD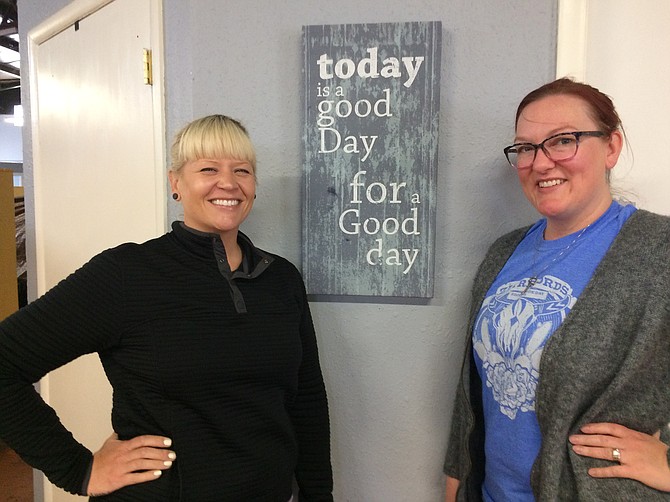 CCJ's push to become a "compassionate landlord" for clients moving from shelter to permanent housing caught the eye of national homeless coalition advocates seeking novel ways to end homelessness. CCJ Executive Director Jessi Hans and Assistant Director Allison Lenocker were invited to be all-expense-paid speakers at the Corporation for Supportive Housing conference in Indianapolis, Indiana April 30-May 2.
For 90 minutes, Hans and Lenocker will talk about the CCJ client philosophy as well as how to leverage private dollars into rural, affordable housing solutions for a vulnerable, and difficult, clientele.
"We're relational because it becomes transformational," Hans said. "No one in the fifth grade who is asked what they want to be when they grow says they want to be homeless. And no one who becomes homeless can get out of homeless without someone coming beside them with the tools to find the right path."
CCJ revamped its mission this year so that its $850,000 budget is targeted at reducing the need for shelter by offering a range of alternative housing options.
A single-wide trailer on a corner lot with a flower bed can be a palace to someone who never thought they would ever have a place to call their own.
PARTNERSHIPS
"It really does take the whole village to make this a reality," Lenocker added.
A coffee chat between Hans and real estate company owner Jon Rocha about a year ago launched what is now an affordable housing initiative. Rocha brokered a partnership with a major industry home builder, Dorn Homes, spinning CCJ's vision into a fairytale for folks who have forgotten they can exist.
"We are pleased to be in a position to partner with CCJ to end homelessness in the Prescott area. We believe the lodges represent a step towards independence for those that would otherwise be living in a shelter," said Dorn Homes executive Jim Gunby. "We know receiving government funding for programs such as the lodge, can be a long and daunting process, and hope that we can help impact local change faster by committing to build these homes with CCJ."
Hans and Lenocker want their national colleagues to recognize the only way to end homelessness in any area is to be creative, collaborative, and willing to take a chance.
This work requires a willingness to stumble in the dark, Hans said.
"CCJ is full of people who are figure-outers," she concluded.
Follow Nanci Hutson on Twitter @HutsonNanci. Reach her at 928-445-3333 ext. 2041.
More like this story
SUBMIT FEEDBACK
Click Below to: