Victims, law enforcement want more done to stop fentanyl now

Originally Published: April 27, 2019 11:02 p.m.
Joey Friederick got home from work June 7, 2018, to find his 18-year-old son, Jared, laying unresponsive on the living room couch.
"He was blue and I just started screaming and tried to wake him up," Friederick said.
He called 911 and they instructed him to do chest compressions.
"I put him on the floor and tried to give him CPR," Friederick said. "I tried; I tried to save him."

An investigation revealed Jared had fatally overdosed on opioids after swallowing at least one oxycodone mimic pill laced with fentanyl, a powerful synthetic opioid now largely driving opioid overdose deaths in the country.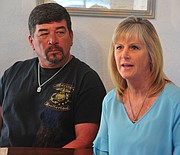 Five months after Jared's death, two more young men, 19-year-olds Gunner Bundrick and Jake Morales, were found dead from an apparent drug overdose at Bundrick's home in Prescott Valley. Toxicology reports revealed they had also been the victims of fentanyl-laced mimic pills.
Since these deaths, the Courier has been tracking the court cases of alleged illicit fentanyl dealers in Yavapai County. What has become clear through the tracking is even when people admit to selling illicit fentanyl, and even when they are suspected of distributing the drugs that killed people like Jared, Gunner and Jake, they are placed on probation in lieu of a prison sentence.
Victims' families have struggled with this fact.
"If you know that you're selling something that deadly, I think there should be a harsher punishment," said Jared's mother, Angela Friederick.
Terri Morales, Jake's mother, feels the same.
"If you're dealing opioids or anything of that nature, I think there should be mandatory prison time," she said. "I mean these [dealers] are back out on the street. They can go right back to dealing it again. They get to go home to their families. Our son never gets to come home again. We'll never get to sit down and have dinner with our son again. He'll never get to finish college. He doesn't get to pursue the things that he wanted to do. He talked about serving our country. He'll never get that chance."
LAW ENFORCEMENT FRUSTRATED
Law enforcement officials tasked with catching and prosecuting drug dealers have also been vexed by how lenient narcotic drug laws currently are for the production, sale and transportation of fentanyl and related substances.

"It is frustrating," said Nate Auvenshine, commander of Partners Against Narcotics Trafficking, an agency that handles the majority of drug investigations in Yavapai County.
Auvenshine and others throughout the state advocated for a proposed Arizona bill in 2018 targeting fentanyl and heroin dealers, but it got shot down in the state Senate.
The measure was essentially identical to one passed in 2006 that enhanced sentencings for the manufacture or distribution of methamphetamine. It would have required the same mandatory minimum prison sentences for anyone caught producing or dealing heroin, fentanyl, fentanyl mimetic substances and carfentanil, a synthetic opioid 100 times stronger than fentanyl.
Opposing the opioid bill were treatment and prevention groups, Auvenshine said.
"The argument was that the majority of these people who are selling are just selling to support their own habits, which is not what we have found," he said.
"Many of the people we've arrested are people who are preying on addicts or those who have even been in recovery. Those are the people we want to send away."
Dennis McGrane, the chief deputy in the Yavapai County Attorney's Office, echoed this sentiment.
"We do battle with good-intentioned people who believe we fill our prisons with simple possession drug users, and it's just a common misperception," he said.
McGrane's boss, Yavapai County Attorney Shiela Polk, tried at the start of the 2019 legislative session to overcome this hurdle with Arizona legislators, but was told "this year is not the year," she said.
Polk said she intends to build a stronger case for why a fentanyl bill is needed and return to the Legislature with it next year.
Prescott-area legislators Rep. Noel Campbell and Senate President Karen Fann have both expressed their support for such a bill as long as it is crafted appropriately.

"We need to do something about this," Fann said.
Follow Max Efrein on Twitter @mefrein, email him at mefrein@prescottaz.com or call him at 928-445-3333 ext. 1105.
Click HERE to read the Courier's Sunday Editorial, calling for mandatory punishment.
Share #StopFentanylNow
Related Stories
SUBMIT FEEDBACK
Click Below to:
More like this story