Preview: Prescott baseball to host Estrella Foothills in 4A playoffs' 1st round
Prep Baseball
By
Doug Cook
|
dougout_dc
Originally Published: April 25, 2019 11:34 p.m.
Opener for third-seeded Badgers at 4 p.m. Saturday
PRESCOTT — Prescott's baseball team received a difficult draw as the No. 8 seed in the 4A state tournament, which begins Saturday, April 27, but it would be unwise to overlook these experienced Badgers.
At 4 p.m. April 27, Prescott plays host to No. 9 Estrella Foothills in the first round. If the Badgers win, they would meet the winner of another first-round matchup pitting No. 1 Mesquite (18-0 record in power-point games) against No. 16 Flagstaff at 4 p.m. Monday, April 29, at the higher seeded team's field.
Document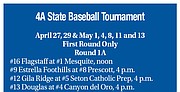 "The postseason's a new season, so we look at it kind of that way," veteran Prescott coach Kent Winslow said. "Everything in the past is the past. … I was happy to stay in the Top 8, obviously. You like to finish as high as you can. That's the highest we've finished in quite a while so, hopefully, it'll work out for us."
Each of the eight winners in the first round will qualify for the double-elimination portion of the tournament.
Prescott, which tied third-seeded Lee Williams atop the Grand Canyon region standings with an 11-1 record but lost the tiebreaker based on conference record, ended the regular season at 14-4 in power-point games. Last season, the Badgers lost in the play-in round as a No. 14 seed.
Meanwhile, Estrella Foothills (14-4) placed second to 12th-seeded Gila Ridge in the Southwest region. On paper, these teams seem well-matched. Last March, Prescott beat Estrella Foothills, 4-2, at home.
Winslow said he will start senior Jake Schulz at pitcher on Saturday and that he likes having the home-field advantage.
The Badgers are 7-0 at home this season, but they are wary of Estrella Foothills. In its regular-season finale April 22 in Chandler, Prescott lost 11-1 in a run-ruled five innings at fifth-seeded Seton Catholic Prep.
"They're always in it and always a very quality team," Winslow said of the Estrella Foothills Wolves. "They're always a ranked team, and it'll be a good contest for sure."
3A: CHINO VALLEY
Chino Valley failed to register a three-peat of titles in the 3A West region this season, but the Cougars still made the state play-in round thanks largely to a difficult schedule packed with power points.
At 4 p.m. Tuesday, April 30, No. 17 seed Chino Valley (9-9 record in power-point games) visits No. 16 Odyssey Institute (10-8) to decide which team qualifies for the 16-team, single-elimination 3A state tournament, which begins Friday, May 3, at Surprise Sports Complex.
The Top 8-ranked squads in 3A earned automatic berths to state, while the ninth through 24 seeds must win a game to get into the bracket.
1A: BAGDAD, MAYER
Defending 1A state champion Bagdad (14-2 record in power-point games) garnered the No. 1 seed into the 2019 state tournament and will meet No. 16 Red Mesa (6-6) in the first round at 6:30 p.m. Friday, May 3, at Goodyear Baseball Complex's Reds Field No. 5.
If the Sultans win, they would meet the winner of the first-round game pitting No. 9 Mohave Accelerated versus No. 8 Hayden in the quarterfinals at 11 a.m. Saturday, May 4, also at Reds Field No. 5.
Mayer (6-9) also qualified for the single-elimination tournament, picking up the No. 14 seed. The Wildcats will battle No. 3 Ray (15-2) at 6:30 p.m. May 3 in the first round at Reds Field No. 3.
The Mayer-Ray victor faces the winner of the No. 11 St. David-No. 6 Baboquivari first-round game in the quarterfinals at 11 a.m. May 4 at Reds Field No. 3.
Doug Cook is a sports reporter for The Daily Courier. Follow him on Twitter at @dougout_dc. Email him at dcook@prescottaz.com or call 928-445-3333, ext. 2039.
More like this story
SUBMIT FEEDBACK
Click Below to: