Pusch Ridge crushes Cougars in play-in round, qualifies for state
Prep Softball
By
Doug Cook
|
dougout_dc
Originally Published: April 24, 2019 11:30 p.m.
CHINO VALLEY — One. Big. Inning.
For 3A No. 17 Pusch Ridge Christian Academy, that's all it took to dispatch the No. 16 Chino Valley softball team from the postseason.
The Lions came out firing in the second inning of their 3A state play-in game, ultimately qualifying for the 16-team state bracket by scoring 15 runs on 11 hits en route to a 19-5 rout of the Cougars Wednesday, April 24, at the latter's campus field.
Pusch Ridge of Tucson added four runs on four hits in the fifth to end the contest in a run-ruled five innings.
"They were hungry to hit," first-year Lions coach Laura Schoenborn said of her team. "And that was their goal – they wanted to score at least 10 [runs]. They went into it with big goals and they fulfilled them."
The South region Lions improved their record in power-point games to 13-6, while West region Chino Valley ended its 2019 season at 10-9. The Cougars lost in the state quarterfinals in 2018.
"Obviously it didn't turn out how we wanted it to, but we are not ashamed of how we did," Cougars senior leftfielder Rebecca Ballard said. "We had a great season and we're holding our heads high."
Chino Valley coach Matt Dunn's said he's proud of his squad, which had four seniors, six juniors, a sophomore and two freshmen on its 13-player roster.
"From where we started to where we ended up [this season]; night and day," Dunn said. "These girls came together as a team; a group of young women that played together. No bickering. They've got each other's backs. They learned to understand how the game is being played.
Photo Gallery
Chino Valley vs Pusch Ridge Softball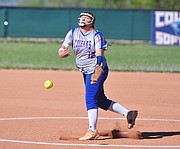 "Going forward, we're going to use that momentum. We're knocking on the door, and we're going to open that door next season."
Meanwhile, a year after losing in the play-in round, Pusch Ridge advances to the first round of the state tournament on Saturday, April 27, against an opponent and a time to be determined.
On the pitcher's slab Wednesday, Lions freshman starter Kyrie Denny tossed a complete game, allowing five runs (two earned) on seven hits and striking out four. She didn't issue a walk.
"My fastball was working in the river area [runs between each edge of the plate and connects to the white chalk line of the batter's box on each side] as well as my rise ball," Denny said. "And my curveball – my spin's really good. I've been working on that a lot, and my catcher [Vanessa Urias] did a great job framing it."
At the dish for the Lions, leadoff hitter Baie Ensio paced her team, going 3 for 5 with a grand slam and two RBI singles. She registered six RBIs and scored two runs.
Vanessa Urias (3 for 4, triple, two doubles, two runs scored), Abby McGowan (3 for 4, triple, two-run single, two runs scored), Victoria Graham (2 for 2, RBI double, RBI single), Jordan Jones (1 for 2, RBI double, three runs scored), Laynne Miller (2 for 2, two RBIs, two runs) and Raine Starbuck (2 for 2, two runs scored) also stood out.
Denny, who added a solo homer, said she has a good feeling about the state playoffs.
"We have a great team and our chemistry's great, and we've been working really hard," Denny said. "So I'm very excited and we're going to go a long way."
For Chino Valley, starting pitcher Daviren Passmore lasted one inning, despite facing eight batters in the second. She surrendered eight runs on six hits in the second before giving way to freshman Alyssa Hamm, who performed admirably the rest of the way.
After the second inning, one in which Pusch Ridge batted around twice, Hamm gave up only two hits in the third and fourth frames before allowing four runs on four hits in the fifth.
"It definitely wasn't our cleanest game, but we did come back a little bit – we had a couple good innings and, honestly, we fought as a team as hard as we could," Cougars senior catcher Angelina Kirkpatrick said.
At the plate, Chino Valley was led by Kirkpatrick (three-run homer), Passmore (2 for 2, double, run scored) and Ballard (2 for 3, double, run scored). Kirkpatrick's teammates honored her with a Gatorade bath afterward.
"This was probably the best season I've ever seen here," Kirkpatrick said. "We definitely clicked as a team, came together, fought many battles and played our hearts out."
UP NEXT
Pusch Ridge will be reseeded into the 16-team 3A state tournament bracket during a live bracket show at 2:30 p.m. today, April 25, at azpreps365.com.
The bracket's Top 8 seeds, which earned a bye into the first round, will be paired with the eight winners from Wednesday's play-in round.
Doug Cook is a sports reporter for The Daily Courier. Follow him on Twitter at @dougout_dc. Email him at dcook@prescottaz.com or call 928-445-3333, ext. 2039.
More like this story
SUBMIT FEEDBACK
Click Below to: