YRMC begins $80 million expansion plan

By
Nanci Hutson
|
HutsonNanci
Originally Published: April 23, 2019 11:31 p.m.
Yavapai Regional Medical Center is embarking on an $80 million expansion plan on its west side campus to include a new parking garage and three-story health care center, President and Chief Executive Officer John Amos announced Monday night.
The hospital expects to begin construction soon on a 450-space parking garage designed to then connect with a three-story, 70,000- to 100,000-square-foot medical office structure that Amos hopes will be open to patients sometime in 2021.
The new center will house primary care and specialty medical services with space for outpatient surgeries, as well as all of the existing physical rehabilitation, preventive medicine and wellness services, he said.
The existing Pendleton Center — current home for physical rehabilitation and wellness care — on the southern corner of the hospital's main campus on Whipple Street will be razed to make room for the new construction and parking area, Amos explained, adding that those services will be temporarily relocated to leased space in the former Whole Foods Store on Iron Springs Road.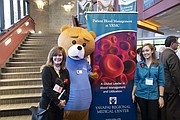 Hospital leaders are working to "fast track" that move, but no date has been identified, officials said.
Hospital Marketing and Communications Director Ken Boush explained work is underway to address temporary parking needs and ways to accommodate medical staff, patients and visitors during the expansion. Meetings are underway with the contractor related to a ground breaking on the new parking structure, the first project scheduled to be done, he said. At the same time, hospital leaders are working with the architect on plans for the new health center.
To about 20 medical staff and community members who attended the half-hour meeting that offered highlights of the hospital's 75th anniversary year, Amos said this is all part of an ongoing growth model aimed at continuing the hospital's long-standing mission to provide the highest caliber health care to be found anywhere.
YRMC's investment to expand health care offerings is done solely through patient revenue and community donations, officials noted.
"No property taxes have ever been levied to fund YRMC programs or to pay for capital improvement or expansion projects," according to a statement in the annual report. "If there is revenue left over after the hospital's expenses are paid, this money is reinvested in YRMC to improve patient care, to reduce debt and to fund future needs."
The annual budget report indicates that 2018 revenues totaled $382.4 million and expenses totaled $337.6 million, with $36 million available for future commitments. As for total assets, YRMC reported $469 million with $129.3 million in liabilities.
Amos praised the entire YRMC family — physicians, staff, administrators, volunteers and donors — for "exemplifying the hospital mission every day." From offering routine annual physicals to life-preserving cardiac care, Amos said, "We're here at all times for all comers."
Reflecting on YRMC's roots as well as its determination to "move forward with purpose and conviction," Amos' introduction in the annual report focused on the reality that "health care today has no finish lines."
"Change is constant," Amos reported. "But for health care organizations that choose to lead, that reality heightens the need for sound planning and strong decision making processes."
PAST AND FUTURE
Board of Trustees Chairman Jane Bristol said this past year was an "exciting" one, a time to honor the past and pay tribute to a multitude of accomplishments that included some 152,439 patient visits and 11,513 inpatient admissions on the hospital's two campuses, Prescott and Prescott Valley.
Referring to the annual report's title, "The Road Ahead," Bristol said the board reviewed its strategic plan through 2021. The plan is divided into four pillars: people to provide outstanding patient care; quality determined through evidence-based care; physicians recruited to create the ideal culture for care; and growth to enhance the portfolio of what YRMC can offer to its consumers, she said.
Bristol was clear that she "can't be prouder" of all those at YRMC who daily demonstrate devotion to "meeting and exceeding our goals into the future."
YRMC's physician recruitment efforts resulted in the hiring of 15 new physician specialists, 12 primary care physicians and 13 advanced clinical practitioners. YRMC opened a new clinic in Chino Valley and started construction last year on a third catheterization lab on the west campus that will feature "road mapping" technology that is so new it is only available in three hospitals across the United States.
The annual report also cites new medical technology, including telemedicine services for employees and their families.
THE PEOPLE
Amos said he appreciates the numbers as telling part of YRMC's story, but he said statistics do not "show the heart" of YRMC's medical providers who work as an "orchestrated team" to on a moment's notice are called to deliver compassionate, and complex medical care to any and all patients.
"We've gone through tremendous change, but we always are focused on patients," Amos said, noting he is confident anyone walking through the doors of YRMC will receive competent, compassionate and competitive care to rival any other health facility in the country. "The people at YRMC are our true assets. The people are who continue to make the organization the great place it is today."
Highlights of the 2018 Yavapai Regional Medical Center annual report titled " The Road Ahead."
YRMC Hospital visits: 11,513 inpatient admissions; 152,439 patient visits
The James Family Heart Center: 211 open heart surgeries; 491 electrophysiology procedures; 1,174 cardiac catheterization procedures, 279 interventional radiology procedures; 41 transcatheter aortic valve replacements
Medical imaging: 21,616 inpatient procedures, 88, 026 outpatient procedures; 470 lung cancer screenings
The BreastCare Center: 17,436 mammograms; 2,160 ultrasound studies;152 stereotactic biopsies
Emergency Department: 69,614 patient visits
Surgical procedures: 4,427 surgeries performed; 5,242 endoscopy procedures; 947 orthopedic surgeriesl 72 neurosurgeries
Family birthing center: 993 births
Physical rehabilitation services: 72,146 inpatient procedures; 85,734 outpatient procedures
Advanced Wound Care: 1,101 hyperbaric oxygen treatments; 9484 patient visits
YRMC employees: 1,983 with 443 medical staff provider, 89 from PhysicianCare; 710 volunteers who donated 112.132 hours.
Community: 174 community presentations reaching 404,583 people at a $1.115 million value
Follow Nanci Hutson on Twitter @HutsonNanci. Reach her at 928-445-3333 ext. 2041.
More like this story
SUBMIT FEEDBACK
Click Below to: