Wine, Bites & Brew is this weekend
Lots more this year, says chamber director

Originally Published: April 23, 2019 2:35 p.m.
The Chino Valley Area Chamber of Commerce and Chino Valley Lioness Club are gearing up for this weekend's second annual Wine, Bites & Brew event.
Last year's event was essentially her job interview and this year it's bigger and better than ever with a lot more vendors, Chino Valley Area Chamber of Commerce Executive Director Lorette Brashear said.
The vendors include Granite Creek Vineyards, Superstition Meadery, Insurgent Brewing Company, Coppertop Ale House, Prescott Brewing Company, the American Legion with a prickly pear margarita bar, a cigar bar allowing people to sample different cigars, Two Bites Bakery, Iron Horse Grille and Cocoa Exchange with chocolate and chocolate martinis.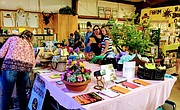 Prescott News Network's Courier Cares has even become part of the event and is giving an award to "the best bite," "the best brew" and "the best wine," Brashear said. The judging begins before the event begins.
"By the time the event starts, they'll be able to find out who won the best bite for the show, the best brew for the show and the best wine," Brashear said.
Lew Rees, events and marketing director for Western News&Info, the parent company of Prescott News Network, said that in his many years of chamber work, he's orchestrated and been part of many food events. They're something he really enjoys and for this event, he wants to make sure it's built year after year and a certain success for the Chino Valley Area Chamber of Commerce and the Chino Valley Lioness Club, Rees said.
Wine Bites & Brew is something that's near and dear to the chamber, lionesses and Chino Valley, he said. It's thrilling to be a partner with them in order to bring the event to the community.
"It will be another flagship (event) for the chamber and the lionesses for years and years to come," he said.
The event goes from 5 to 9 p.m. Saturday, April 27, at Earthworks Garden Supply, 2531 Highway 89. Tickets are $35 and available at Earthworks Garden Supply; State Farm, 360 N. Highway 89; Tom's Print Shop, 98 Highway 89; Brightstar RV & Mini Storage, 1165 Bright Star Blvd; and at the Chino Valley Area Chamber of Commerce, 175 E. Road 2 South.
If there's no place to park at Earthworks Garden Supply, people can park in front of Mazy's, 396 W. Road 3 North, and Yavapai Regional Transit will provide transportation to the event.
Even if people don't want to drink, the event has something for them, Brashear added. Valley of Vitality will be giving massages, Virtual Odysseys will be there with its virtual reality games, Georgia Atwell will be doing some Mary Kay sampling, people will be able to get their vows renewed, and Heritage Park Zoological Sanctuary and Overflow Coffee will be present too, she said.
There also will be drawings, a silent auction and music by Brad Newman, Chad Rubin and Note to Self, Brashear said.
"Three really great bands, two that are not local," she said. "We just wanted to be a little bit different and bring a little bit more variety to the area."
Money brought in from Wine, Bites & Brew goes to helping different local organizations, Brashear said. Last year proceeds went to the Hungry Kids Project, to the Chino Valley Police Department and its Stop the Bleed campaign, and to the Chino Valley Unified School District.
For more information about Wine, Bites & Brew, visit www.chinovalley.org, or call 928-636-2493 or 714-651-7648.
More like this story
SUBMIT FEEDBACK
Click Below to: