Response times continue to rise for Prescott Fire Department
Fire chief: Growing call volumes combine with 'flat' staffing levels

By
Cindy Barks
|
Cindy_Barks
Originally Published: April 23, 2019 11:26 p.m.
Ninety percent of the time, the Prescott Fire Department gets to community emergencies in 9½ minutes.
That is about three minutes longer than the "90th percentile" response times suggested by national preferred standards, said Prescott Fire Chief Dennis Light.
And records show that Prescott's response times have been on the rise for years.
"We have consistently gone the wrong way," Light said of the department's response times.
Indeed, a 2014-15 analysis showed that response times for both structure fires and emergency medical service (EMS) calls had risen by nearly a minute, compared with the 90-percentile numbers from 2013.
That analysis stated: "Prescott Fire Department response times have continuously increased over the last few years with two call-for-serve types (structure fires and EMS calls)."
While past studies, such as 2014's International City/County Management Association (ICMA) report, have indicated that the local fire department is a "top-tier organization" in many respects, the studies have also pointed to a number of "improvement opportunities."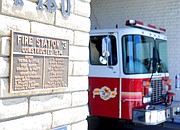 Among them were the department's response times.
"Basically, ICMA said we're doing the best we can with what we have," Light said.
But, he added, "Regrettably, due to economic conditions, little has changed since then. The fire department organization is fairly flat at the top. We've not added any capacity really since 1998, 1999. We haven't built a fire station, and we have probably less people today than we had then."
POSSIBLE FIXES
The response times came up — along with a host of other fire department-related issues — at two recent Prescott City Council meetings.
The first, on March 26, included a presentation on a new study, the Community Risk Assessment, conducted by Emergency Services Consulting International.
Then, on April 9, the council focused on the impacts that growth is having on city services, including the fire department.
At that meeting, Light stressed the need for two key changes: the relocation of the city's Airport Fire Station, and the construction and staffing of a new station somewhere near the Highway 89/Willow Lake Road roundabout.
Light called the relocation of the 1970s-era airport station the "first and most pressing need," pointing out that "growth has occurred outside the immediate area of the airport, which kind of puts that station out of position for serving the eventual build-out that is expected in the north end."
He suggested that the station would be relocated "somewhat to the south and east," where it would be in a better position to serve the growth that is happening near Pioneer Parkway.
If and when that happens, the Aircraft Rescue and Firefighting (ARFF) component would be moved closer to the airport runway, Light said, likely through the help of a Federal Aviation Administration grant.
Relocating the airport fire station would cost the city about $2.9 million, Light said, while a new station would cost about $2.1 million.
STAFFING COSTS
Because the airport station is already staffed, relocating it would not come with additional personnel costs.
On the other hand, a new fire station would require 12 new staff members, at a cost of about $1,651,000, Light said.
"The land and the 'bricks and sticks' are the cheap portions," Light said, noting that the major expense comes with the ongoing personnel costs.
It was that aspect that some City Council members had questions about earlier this month.
Mayor Pro Tem Billie Orr pointed out that the city is still working to pay down its Public Safety Personnel Retirement System (PSPRS) unfunded liability, which currently stands at about $69 million.
When voters approved a 0.75 percent sales tax in 2017 to pay down the pension debt, Orr said, the city committed to keeping costs down. "One of the things we focused on was not to bring on additional staff, because it's harder to pay down the unfunded liability," she said. "We still have a huge debt to pay down."
Still, others maintained that the city had not done enough in recent years to help improve response times.
"I think what we're hearing right now is a sucking sound of this council not doing anything for the last 12 years," said Councilman Steve Blair. "We should have been more proactive."
And of the need for impact fees that would make new homebuilders pay for the impacts from growth, Blair added, "I think we're foolish not to have a site and a very aggressive approach to build the building. I think we need to make it happen sooner than later."
City discussions on new impact fees have been ongoing for much of the past year, and are scheduled to continue on May 14. If adopted, revenue from fire impact fees could help to cover future fire-station costs that are related to growth.
Follow Cindy Barks on Twitter @Cindy_Barks. Reach her at 928-445-3333, ext. 2034, or cbarks@prescottaz.com.
More like this story
SUBMIT FEEDBACK
Click Below to: