Chino Valley kids scramble for eggs
Fun prizes hidden in some eggs

Originally Published: April 23, 2019 2:41 p.m.
Darletta Haverstock took part in her first egg hunt at the annual Free Easter Egg Hunt at the Chino Valley Community Center Ball Fields Saturday, April 20.
Haverstock said she enjoyed herself.
"It was fun," she said.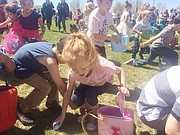 Haverstock's mother, Maryann Haverstock, said they went to the event this year because she was with some of her friends. She was also trying to get her daughter's mind off of the recent death of her dad, Maryann Haverstock said.
The fact that Darletta Haverstock was having such a great time at the event was helpful, Maryann Haverstock said.
"It's comforting for me," she said. "It helps me be strong."
Featuring a little more than 10,000 eggs, games, train rides, activities, jump castles, face painting, and the Easter Bunny, some of the eggs had some fun prizes in them, said Chino Valley Community Services Director Scott Bruner. Some had markings on the top and in them were free pool passes for the Aquatic Center, Bruner said. Others eggs were gold and had things like free swimming lessons or chocolate bunnies, he said.
There were multiple hunts between 10 a.m. and 11:30 a.m. with all but one of the hunts divided by age and another specifically for special needs children. Prior to the event, Carrie Barnes, the coordinator, said she really enjoys watching the little kids participate in their first egg hunt. It's completely new and a wonder for them, Barnes said.
Some families had been to the event before, such as Emily Delahurerta's family. They come out every year because the kids have so much fun, Delahurerta said. The Free Easter Egg Hunt looks like it continues to grow in attendance every year as well, she said.
"There's a lot of kids this year too," Delahurerta said. "A lot more than last year."
SUBMIT FEEDBACK
Click Below to:
More like this story