Game and Fish tranquilizes, relocates bear roaming Prescott Valley neighborhood
Neighbors reported bear 'jumping fences'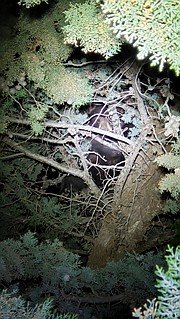 The bear went over the fences – and then maybe the mountains – in Prescott Valley Sunday, April 21, alarming the neighbors in the 8100 block of Donna Road, just north of Highway 69 between Robert Road and Windsong Drive.
Prescott Valley Police Department (PVPD) received multiple reports of a bear on the loose – "jumping fences" – in the Donna Road neighborhood, PVPD Officer Branden Kelly said Monday, April 22. One person reported that he was checking on his chickens when he saw the bear, and both ran away in different directions, Kelly said.
The bear, a "sub-adult male," meaning it was between 2.5 and 5.5 years old, climbed a tree as officers waited for Arizona Game and Fish Department (AZGFD) officers to arrive. Kelly described the bear as being a couple hundred pounds, definitely male and not aggressive at all.
"It was eating things on the branches and being cute," he said.
AZGFD officers tranquilized the bear, tagged it and loaded it into the trailer to relocate to an unnamed location.
"It's that time of year when bears have awoken hungry and are in search of easy food and water," said Regional Supervisor Larry Phoenix, AZGFD Kingman office. "Thankfully, we were able to safely return this bear to the wild. However, that isn't always the case as bears can become dangerous after they've been habituated to human sources of food and denied their next meal."
Under department policy, wildlife officers consider the bear's behavior, age, sex and whether it is a threat to human safety when determining what action to take on when to relocate or lethally remove a bear, an April 22 AZGFD news release states.
Kelly said he thought the recent fire at Lynx Lake might have pushed the bear into Prescott Valley. A fellow officer of 17 years told him he only remembered one other incident involving a bear in town.
Arizona has only one species of bear – the black bear – but they can come in colors other than black: brown, cinnamon and dark blond. In Arizona, they normally eat acorns, berries, insects and cactus fruits.
Unsecured garbage stored outside is often the most common bear attractant, the AZGFD website indicates. Birdseed, pet food, fruit trees and some gardens also can appeal to the animals. Additionally, drought, wildfire and urban development can cause bears to roam farther in search of new food sources.
"Black bears should always be considered unpredictable and potentially dangerous. A black bear will usually detect you and leave the area before you notice, unless the bear has been conditioned to people and their food," the website states.
If one should come face to face with a bear, AZGFD recommends making oneself as large as possible, standing upright, waving arms or jacket, and making loud noises by yelling or banging pots and pans.
"Do not run and never play dead. Give the bear a chance to leave the area. If the bear does not leave, stay calm, continue facing it, and slowly back away. If a bear is in your yard, scare it away from inside the house, keeping the door close," the website states.
Call 911 if in a life-threatening situation with a bear, AZGFD states. To report a bear sighting in an urban area or neighborhood, please contact the local office, which is in Kingman, at 928-692-7700, or the department's Radio Room at (623) 236-7201. For more information, visit www.azgfd.com/Wildlife/LivingWith.
More like this story
SUBMIT FEEDBACK
Click Below to: