Prescott celebrates Earth Day, Firewise Expo
'Because we need to be kinder to our earth before it's too late'

Originally Published: April 21, 2019 10:40 p.m.
Saturday, April 20, was a bright, breezy day to be alive on Planet Earth in downtown Prescott walking in the sun and shade of the tall elms lining Cortez Street. The annual Firewise Expo and Earth Day events celebrate the efforts of people and organizations locally and nationwide to preserve, protect, and recycle.
People of all ages stopped at booths not only to gather information or paint rocks, but to learn more about the Quad-city groups that keep communities environmentally healthy and safe.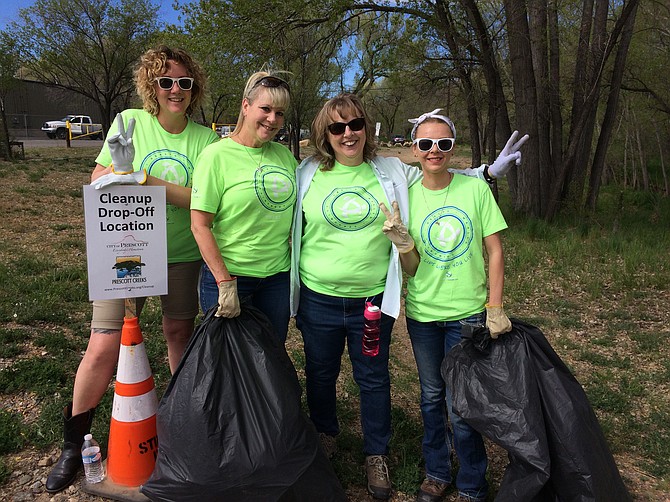 The morning found Dick Hedge, 77, walking Granite Creek by himself with garbage bag in tow. Hedge said he participated in the annual Granite Creek cleanup, part of Prescott's Earth Day events, seven or eight years ago and felt the need to do it again this year.
"I'm not as active because I have knee problems – they are rubbing bone on bone," he said, straightening up from trying to dig out a piece of green plastic half buried in the creek bank.
Hedge also participated in the Over the Hill Gang, which works on trails, until four or five years ago. "I appreciate the outdoors. It's nice to keep it clean," he said.
Working together, Deanna Jones, Kasey and Rebecca Shaver, and Lynn Schmidt, all members of Tranont, a financial service, also picked up trash near Granite Creek Park because, "it's an easy thing for people to do."
Earth Day, celebrated every April 22, got its start in 1970 and is considered the birth of the modern environmental movement raising awareness of the connections between pollution and public health.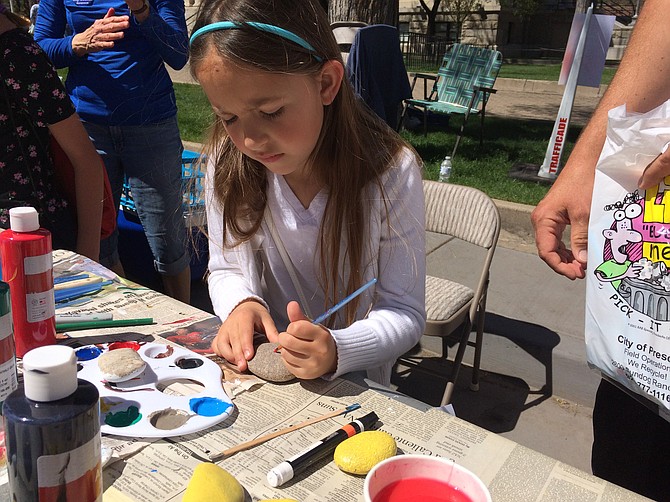 Some people use Earth Day to make year-long resolutions such as not buying or using disposable plastic water bottles; they choose to use reusable glass or metal bottles. Some take their own small containers into restaurants when they anticipate needing a "doggie bag," and thus putting one less foam container into the landfill.
Planting a tree, walking or riding one's bike, or implementing a rainwater harvesting system are other ways to support the environment.
Leslie Hoy, Citizens Water Advocacy Group (CWAG), answered water questions and offered information to interested passers-by at the CWAG downtown booth. "There are always new residents attracted to water issues," Hoy said, adding that CWAG puts on popular monthly presentations on a wide range of water topics.
Providing a good match to Earth Day celebrations, the Firewise Expo organizations overlapped with messages of forest health and fire safety.
Firewise Communities can be found wherever urban and wildland intersect. The Prescott Area Wildland Urban Interface Commission (PAWUIC) includes 41 separate developments or subdivisions that work together to reduce the threat of wildfires by modifying vegetation on homeowners' properties.
The Firewise booth displayed before and after photographs of what fuel reduction projects look like. Its members were busy explaining how this works to prevent or lessen the destruction of wildfires and to make properties safer for first responders.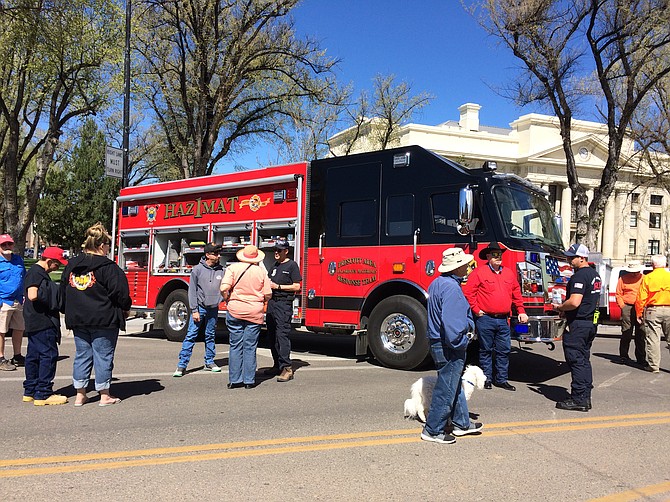 Firetrucks, Smokey Bear, forest service and emergency response teams also participated in the event. Ron Kohlman heads up the Yavapai County Community Emergency Response Team (CERT), a Federal Emergency Management Agency training program for local community preparedness. Kohlman said each municipality will have their own CERT teams that can be called into service when needed.
"We're also going to start a teen CERT program to teach basic first aid and ham radio communication skills," Kohlman said.
Barbara Rye, Prescott resident of 21 years, stopped by the Save the Dells booth. She said she was sad and scared about what might happen to the planet.
"I come here every year because we need to be kinder to our earth before it's too late," she said.
More like this story
SUBMIT FEEDBACK
Click Below to: