Need2Know: Garcia's Market offers fresh take on local grocery; Cable One to become 'Sparklight'; Sushi Man opens at Iron Springs Road

By
Cindy Barks
|
Cindy_Barks
Originally Published: April 20, 2019 7:15 p.m.
Prescott Valley's Garcia's Market offers fresh take on local grocery
Freshly baked Mexican pastries, marinated carne asada, and prepared rice and beans are among the new offerings at Prescott Valley's Garcia's Market, 8147 E. Spouse Drive.
The mother-and-son team of Norma Rangel and Rigo Garcia Jr. recently took ownership of the local grocery and have refreshed the store's merchandise choices.
"We have made a few changes," Rangel said. "We have a little restaurant inside, and we have all kinds of produce, and a bakery."
In addition, the store offers a meat counter, Mexican candy, spices, and a variety of beer and snacks.
The store is located near the intersection of Spouse and Robert Road.
Cable One to become 'Sparklight'
Beginning this summer, Cable One will be rebranded as Sparklight.
In a Tuesday, April 16, news release, Cable One announced that it is rebranding to better reflect its progression to a "full-service provider."
"We are very excited for this evolution to our new brand and the next chapter in our story," Cable ONE President and CEO Julie Laulis said. "Over the past several years we have evolved and our new brand will better convey who we are and what we stand for — a company committed to providing our communities with connectivity that enriches their world."
Although moving to a new brand, Laulis said the corporate name would remain Cable One Inc.
She added that the change "reflects the company's transformation from its origins as a traditional cable company to a full-service provider that seamlessly connects customers to the things they care about, including family, work, entertainment and community."
The name Sparklight illustrates the company's speed and connectivity, according to the news release, while at the same time symbolizing its new brand promise — "connecting people to what matters."
More information is available online at: http://www.sparklight.com.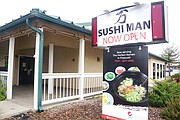 Sushi Man opens at Iron Springs Road location
With upwards of four decades of experience as a sushi chef, Ken Homan recently opened Sushi Man at 1355 Iron Springs Road.
Billed as serving "the perfect ramen in Prescott," Sushi Man will focus on Japanese traditional cuisine, Homan said, including a variety of sushi and ramen.
The restaurant has been open for business at 1355 Iron Springs Road since late March, and has lunch and dinner hours.
Follow Cindy Barks on Twitter @Cindy_Barks. Reach her at 928-445-3333, ext. 2034, or cbarks@prescottaz.com.
To submit items for the Courier's Need2Know, email editors@prescottaz.com; for legal advertisements, email ssialega@prescottaz.com.
More like this story
SUBMIT FEEDBACK
Click Below to: