Great Prescott Easter Egg Hunt full of egg-cited kids
Donald Flowers wins Playstation 4 in third egg hunt

Originally Published: April 20, 2019 9:36 p.m.
In his scramble to pick up as many eggs as he possibly could during the third hunt at the Great Prescott Easter Egg Hunt Saturday, April 20, Donald Flowers scooped an egg into his basket.
It was one among many, but the only egg containing a golden ticket signifying that he won a Playstation 4. Flowers, who had been saving up to buy one of the systems, said he never thought he would end up finding the golden ticket.
He said he was "really excited."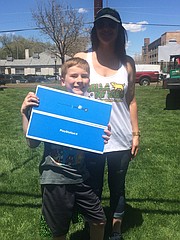 Flowers' mother, Alyssa, said that this was their first time coming to the Great Prescott Easter Egg Hunt and her son finding the one egg containing the golden ticket among many was an "added bonus."
As a whole, the event had 25,000 Easter Eggs along with the Salvation Army coloring eggs from Hickman's Family Farms and activities put on by the Scouts. Hundreds showed up to the event at the Mile High Middle School field, said organizer Steve Gottlieb.
"This is our best turnout ever," Gottlieb said. "The parents have been fantastic."
The chance for kids to win the Playstation 4 was a new addition to this year's event, added because while the younger kids get mesmerized by the eggs, candy and Easter bunny, putting a gaming system into the mix makes it more fun and adds a little competition for the older kids, Gottlieb said prior to the event.
It was also the first time that Leslie Craun and Angie Roberts went to the Great Prescott Easter Egg Hunt. Craun said she saw flyers all around Prescott and thought it would be something fun to come and do with Roberts, who's from Phoenix.
At the same time, Stephanie Mejia said she was enjoying herself at the event because it was something fun for the kids. The best part about it was "just watching our kids have fun," Mejia said.
The Great Prescott Easter Egg Hunt was also put on with the support of Courier Cares this year with Western News & Info Events & Marketing Director Lew Rees stating prior to the event that the "Courier Cares" deeply about the area's children and the perfect way to show that was to watch them find out what's in those eggs.
More like this story
SUBMIT FEEDBACK
Click Below to: