For decades, Kay Bolander has championed sufferers of Parkinson's disease

By
Cindy Barks
|
Cindy_Barks
Originally Published: April 20, 2019 7:28 p.m.
Forty years ago, Kay Bolander was dealing with a devastating family diagnosis: Her new husband had just learned that he had Parkinson's disease.
Don Bolander, who served as the Prescott National Forest supervisor for 12 years in the 1970s and 1980s, and Kay had married in 1978.
Don — "The picture of health" at the time, Kay remembers — was diagnosed in 1979, at age 49.
Kay would spend the next 29 years as her husband's companion, champion and caregiver.
Even after Don died in 2008, Kay opted to stay involved with sufferers of the progressive nervous system disorder.
Today, at 85, she is the longtime leader of the Prescott Parkinson Support Group, and is the go-to resource for friends and strangers alike.
Susy Whann, who was diagnosed with Parkinson's 2½ years ago, remembers being a bit "shell-shocked" by the diagnosis.
She did not know Bolander at the time, but called her to talk about the support group. "She was just so calming, welcoming, and low-key," Whann said. "She has a way of making people feel comfortable."
Now, as a regular member of the support group, Whann continues to be impressed by Bolander's commitment.
"For many years, she has worked tirelessly to keep our quad-city population informed about all subjects and issues relating to Parkinson's disease," Whann said. "She is extremely caring, informed and committed to improving the lives of those who have Parkinson's disease, and their caregivers."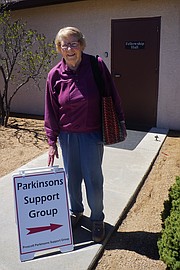 CHARTER MEMBERS
In fact, the Bolanders were among the early organizers of the support group, which has grown to more than 200.
"Don and I were charter members in that group in 1986," Boland said.
In the late 1970s, Kay says, Parkinson's disease was a somewhat unknown disorder. "It wasn't as well-known at all as it is today," she said.
After hearing Don's diagnosis, Kay went to the library to learn more. "I really looked, and there was no information at all," She said.
What she did know at the time was that Don had started noticing a tremor in his hands. "Then, it started to affect his public speaking," Kay says.
Don continued on in his role at the Forest Service for a time, but chose to retire as soon as possible because of the Parkinson's diagnosis. "When he was eligible to retire in 1986, he retired," Kay said.
The Bolanders began hearing from friends about other sufferers of Parkinson's, and the support group was born.
As the group's numbers have grown, its meeting place has changed several times. In recent years, the group has been meeting at the First Lutheran Church, 231 W. Smoke Tree Lane.
Monthly meetings take place there at 10 a.m., on the third Thursday of the month.
Kay, along with a co-leader, took on the volunteer leadership of the group in the late 1990s.
At a recent meeting, Bolander adeptly led the program, offering the 70 or so people in the audience a number of updates about availability of local neurologists, ongoing exercise programs for people with Parkinson's, and new treatments.
She also regularly arranges for and introduces the expert speakers, who might include speech therapists, doctors, and home-care agency owners.
GROUP EFFORT
Although Kay spends considerable time contacting and scheduling speakers and programs for the support group, she stresses that she has plenty of help from others as well.
A dedicated group of volunteers helps with duties such as getting the kitchen and library tables set up for the meeting, making coffee, and getting the cookies and snacks available to serve. Volunteers also help with the clean-up and put-away of all of the books and kitchen items afterward. Former co-leader Judy Talley, who moved recently to Nevada, continues to handle the computer work of sending out monthly notices, Bolander said.
Still, she serves as a regular resource for group members who call for information about home help, respite care for caregivers, and advice on medications and doctors.
While Bolander says she is "happy to help," she notes that at age 85, she will need to step down soon.
Due to her age and recent health problems, Bolander said, "It is time to turn over many of the leadership tasks to other members and take on a smaller role from now on."
She added: "Thirty-two years is a long time. These are wonderful folks, and we are all friends. I plan to continue coming and working with the group for a long time to come."
Follow Cindy Barks on Twitter @Cindy_Barks. Reach her at 928-445-3333, ext. 2034, or cbarks@prescottaz.com.
More like this story
SUBMIT FEEDBACK
Click Below to: