Both Prescott squads score runner-up finishes at Bradshaw track meet
Prep Track and Field
By
Doug Cook
|
dougout_dc
Originally Published: April 20, 2019 11:56 p.m.
PRESCOTT VALLEY — With the Division III state meet two weeks away, Bradshaw Mountain track and field took the opportunity to host to its annual invitational, a qualifying meet at Bob Pavlich Field on a comfortable, sunny, slightly windy day Saturday, April 20.
But it was rival Prescott that claimed the advantage, relishing the weather en route to second-place finishes out of 20 squads on both the boys' and girls' sides.
As temperatures hovered in the 70s, the Badgers felt right at home.
"We had a lot of PRs [personal records] today [Saturday] and we're definitely getting ready for state," Prescott coach Cylinda Bray said.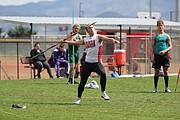 Through Saturday, Prescott's boys had the following qualifiers for the state meet, which is scheduled for Friday, May 3, and Saturday, May 4, at Mesa Community College:
Shawn Hoffman, Bryce Peters, Sam Teuscher, Matt Kaitschuck, Aiden Rooney, Hunter Kronberg, Jovanni Ruiz, Dellin Boyd, Micah Arminio, Fernando Rodriguez, Brandon Williams, Jack Northrup, Alec Almendarez and Lisandro McCarter.
For the Badgers' girls, through Saturday, state qualifiers included: Lily Jensen, Madison Sherman,
Melia Hoyt, Makenzie Ingallina, Keely Bunch, Cienna Madrigal, Katherine Seigler, Kari Kasun, Emma Alvarez, Tea Castro, Emily McMahon, Camryn McKelvey, Makenna Bray, Dynasty Greer-Gipson, Emma Lloyd, Michelle Parent and Kenna McMahon.
Although results from the invitational weren't immediately available, Bradshaw Mountain has seen significant success on the boys side this season from Noah Shaver in the javelin, shot put and discus; Nathan Craig in the 110m hurdles; Jacob Collins in the 1,600m run; Liam Craig in the 400m run and the long jump; and Riley Belone in the 3,200m run.
For the Bears' girls, Abby Platt in the high jump; Shiane Bagley in the 100m hurdles; Caitlynn Neal in the javelin; and Anna Maria Zea in the 1,600m and 3,200m runs have stood out.
UP NEXT
Bradshaw Mountain heads to the Last Knight Qualifier, one of its final state tournament-qualifying meets, at 3 p.m. Tuesday, April 23, at Westview High School in Avondale.
Meanwhile, Prescott travels to Chandler for the Seton Last Chance Qualifier at 2 p.m. April 23, at Seton Catholic Prep.
Doug Cook is a sports reporter for The Daily Courier. Follow him on Twitter at @dougout_dc. Email him at dcook@prescottaz.com or call 928-445-3333, ext. 2039.
More like this story
SUBMIT FEEDBACK
Click Below to: