Desert Edge knocks off Bears 9-7
Prep Baseball
By
Doug Cook
|
dougout_dc
Originally Published: April 19, 2019 12:54 a.m.
With 1 game left, Bears all but eliminated from 4A postseason contention
PRESCOTT VALLEY — In the end, the learning curve proved too steep of a climb for the Bradshaw Mountain baseball team this spring, even if the foreseeable future does seem bright.
On Thursday, April 18, at the Bears' campus field, their 4A state playoff hopes may have at last faded to black after a 9-7 loss to Desert Edge with one regular-season game remaining.
Photo Gallery
Bradshaw Mountain Vs Desert Edge Baseball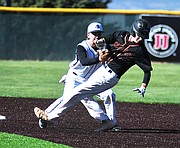 Of the 13 players on Bradshaw Mountain's roster in 2019, seven are juniors, five are sophomores and only one's a senior.
Thursday's setback dropped Bradshaw Mountain's record in power-point games to 7-10. The Bears were ranked No. 29 in 4A going into the game, and they did themselves no favors by succumbing to a Scorpions squad that was No. 38.
In fact, Desert Edge won for just the fourth time in power-point contests, improving to 4-13.
"We had a really, really hard schedule this year," Scorpions first-year coach Chris Hoth said. "We don't have the players that most people have. But our guys come out and they grind."
The Scorpions were led by soft-throwing southpaw Eduardo Ronquillo, whose deceptive curveball/slider kept Bradshaw Mountain's hitters guessing for much of the contest. In 6-2/3 innings, Ronquillo surrendered seven runs on nine hits, striking out four and walking one with two hits-by-pitch.
"At the beginning I couldn't throw it [curveball/slider] for a strike, but after I started throwing it for a strike it was more effective and it got them off the fastball," Ronquillo said.
At the dish, Desert Edge didn't register any extra-base hits. But the Scorpions ripped some clutch singles and capitalized on the Bears' miscues in the field. Bradshaw Mountain catcher Dylan Taylor was out of the lineup with an injured left thumb, which forced a reshuffling of an already thin lineup.
"It was our biggest fear all year long that he might get injured, and of course he did – he dislocated or sprained his thumb [on a slide April 15 at Youngker]," Bears coach Brian Bundrick said.
Nevertheless, Jacob Platt, normally a shortstop, filled in admirably at catcher. On Monday, Platt caught the last two innings of a 6-2 win over Youngker in Buckeye.
"I worked in the bullpen with some of our pitchers to prepare for this game," Platt said.
The Bears trailed 4-0 after a nightmarish first inning, one in which typically reliable starter Jacob Roberts could get nothing going. Desert Edge batted around in the frame, thanks largely to four walks and a hit-by-pitch – all with two outs. Bundrick pulled Roberts after he had faced only eight batters.
"He couldn't throw in at all, and with his ability to go to a changeup, you've got to be able to throw inside to keep them off-balance," Bundrick said.
It would get better for the Bears, though, once junior relief pitcher Aidaan Garcia entered for reliever Jordan Massis with one out in the third inning. Garcia allowed two runs on four hits, striking out four, in 4-2/3 frames. He didn't issue any walks, despite hitting a batter in the sixth and committing a balk in the seventh.
"I rely on my fastball a lot," Garcia said. "My curveball came in [as a factor] a couple times."
At the plate, Bradshaw Mountain pieced together two good innings, in the third and in the seventh. The Bears tallied two hits total in the other five frames.
"Our hitting is the biggest impact of our losses," Garcia added.
In the third, the Bears scored four runs on four hits to cut their deficit to 7-4. A bunt single from Aaron Gordon, followed by a Ronquillo throwing error, scored two runs to get the rally going. Dane Holloway also blistered an RBI double.
Later, down 9-4 in the seventh inning, Bradshaw Mountain attempted a two-out rally, which pulled the Bears within two runs of tying up the game.
With the bases loaded, Josh Grant scorched a three-run triple to right center field on a 3-2 count off of reliever Payson Neville. But with Blair Hillig representing the tying run at the plate, he flied out to left field on a 3-1 count to end it.
If anything, this type of loss should be one to remember, for motivational purposes, going into next season.
"We're going to come out hard [next season]; we're not going to lollygag," Garcia said. "We learned this year, and we're going to be ready."
UP NEXT
Bradshaw Mountain (3-8 Grand Canyon region record) concludes its regular season at noon Saturday, April 20, when it plays host to region opponent and 4A No. 18-ranked Coconino (5-6). Senior infielder Chase Torp will be honored in pregame.
Desert Edge (1-6 West Valley region) ends its campaign at 5:30 p.m. Monday, April 22, with its region finale versus Deer Valley at home in Goodyear.
Doug Cook is a sports reporter for The Daily Courier. Follow him on Twitter at @dougout_dc. Email him at dcook@prescottaz.com or call 928-445-3333, ext. 2039.
More like this story
SUBMIT FEEDBACK
Click Below to: