Authorities evacuate Lynx Lake area due to wildfire
Cause of blaze is under investigation
Originally Published: April 19, 2019 8:20 p.m.
Authorities closed Walker Road near Costco in Prescott and evacuated parts of the Lynx Lake area due to a wildfire Friday afternoon, April 19.
The 7-acre Lynx Fire was burning in ponderosa pine and chaparral east of the south shore boat ramp, said Debbie Maneely with the Prescott National Forest at about 6:40 p.m.
Several Prescott National Forest Engines, the Prescott Hotshots, a Type 3 Helicopter and miscellaneous overhead personnel were continuing to work the fire at the time of Maneely's report. The helicopter was scooping water from the lake and dumping it on the flames. The blaze was 80 percent contained by 8 p.m., according to dispatch reports from firefighters on the scene.
She said firefighters would remain on scene through the evening to secure the perimeter and extinguish interior fuels. The cause of the fire is under investigation.

"In the interest of safety, the public is reminded to obey all traffic signs, drive slowly, and use caution when traveling in the vicinity of the fire as firefighters and fire-related traffic will be traveling along Walker Road," she said.
Judy Mariahazy and her friends from Phoenix were some of the first people to spot the fire. They were camping on the north shore of the lake and were getting ready to do some hiking at about 3:25 p.m. when they saw "a big smoke plume and flames hitting the treetops" across the water.
"We called 911, but apparently someone had already called it in," Mariahazy said.
Soon after, a forest ranger stopped by their campsite and asked them to be prepared for a possible evacuation.
"About 10 minutes later, we got notified that the sheriff does want us to pack up and evacuate," she said.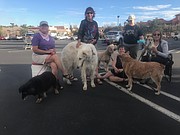 Having planned to stay at Lynx Lake for the weekend, she and her friends decided to wait in Costco's parking lot for a while in case firefighters got the blaze under control enough to reopen the campsite.
Sure enough, Walker Road was reopened at about 7 p.m. and they were able to continue their outdoor adventure in Prescott.
"We're fortunate," she said.
While overnight campgrounds have reopened, the east side of Lynx Lake Trail 311 and Johns Tank Trail 94 will remain closed until further notice, Maneely said.
Additionally, Lynx Lake South Shore Day-Use will remain closed through Saturday evening, April 20, and Lynx Lake North Shore Day-Use will be evaluated for reopening Saturday morning.
For more information about the status of the fire and the closures of the recreation site, go to the Prescott National Forest website at www.fs.usda.gov/prescott/, visit their Facebook page, www.facebook.com/PrescottNF/, or call them at 928-925-1111.
Follow Max Efrein on Twitter @mefrein, email him at mefrein@prescottaz.com or call him at 928-445-3333 ext. 1105.
Sign up for our e-News Alerts
SUBMIT FEEDBACK
Click Below to: