For 100 years, Legion post has served as center of social warmth, community outreach
Centennial celebration set for May 11

By
Cindy Barks
|
Cindy_Barks
Originally Published: April 19, 2019 10:09 p.m.
Back in the summer of 1919, Prescott was on the mend from the devastating World War that had just ended.
Morale was low.
Like much of the rest of the country, the little frontier town had suffered its share of wartime losses.
Most notably, fresh-faced Prescott High standout Ernest A. Love had been shot down by Germans in September 1918 while piloting a fighter plane in France.
He was far from the only local World War I casualty, though. Records show that as many as 30 other Yavapai County servicemen died in the war as well.
By early 1919, the war was over, and Prescott's surviving veterans were back home.
Sherm Scott, the current commander of Prescott's American Legion Post 6, said records show that Lt. Col. Theodore Roosevelt, Jr. (former President Teddy Roosevelt's oldest son) had made a call from Paris earlier that spring for the creation of an organization that would help returning servicemen.
The goal, Scott said, was to boost morale among the veterans, as well as their war-weary communities and families.
In response, about 20 of Prescott's World War I survivors gathered at the local Chamber of Commerce on June 25, 1919, to charter the first American Legion Post in Yavapai County.
The post, dedicated in honor of Ernest A. Love, became known as Post 6 in Arizona.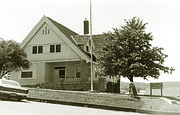 'SHARED EXPERIENCES'
For generations of Prescott veterans, the cozy and rustic house on the corner of Goodwin and Pleasant streets has served as a safe place to socialize, as well as a springboard for community endeavors.
"People come here because it's a comfortable place," Scott said this past week from the post's spacious meeting room. "You meet with people who have shared your experiences."
That doesn't mean that the conversation always focuses on past military experiences, however. "A lot of it is just having a common past," Scott said.
Even so, he added, "Sometimes you want to talk about it, and you've got an ear here — you don't have to explain."
Scott got involved with the post soon after moving to Prescott in the mid-1990s to care for his mother.
After serving in the Navy from 1972 to 1981, Scott said he had initially stayed away from the American Legion because of the pervading attitudes against Vietnam-era veterans. At the time, "Many American Legion posts didn't want Vietnam veterans, and I just gave up," he said.
But when he moved to Prescott, Scott said he was looking for a place to take his mother out in the evenings. Her house was located near the Prescott Public Library — just down the block from the American Legion Post 6 — and Scott decided to try again.
"I asked, 'what would it take for me to join?' and they said, 'Welcome aboard,' " Scott recalls of his first visit to the Prescott post.
For years now, Scott has been an active member of Post 6's Color Guard, traveling all over Arizona to perform military honors for deceased veterans. He served as post commander from 2002 to 2003, and returned again this past year for another term.
YOUTH-ORIENTED PROGRAMS
Socializing and honoring fallen veterans are just parts of the Legion's mission. The organization also sponsors youth programs such as Boys State and the American Legion Law Enforcement Career Academy.
Ralph Nowakowski served as Post 6 commander from about 2009 to 2011 and has stayed involved through the years, in part because of the Legion's youth programs.
For a time after serving in Germany and Saudi Arabia between 1967 and 1973, Nowakowski worked as a teacher in Germany. As a former schoolteacher, he said he likes the youth focus.
Involvement also is a way to honor fellow veterans, Nowakowski said. "I got spit on when I was coming back from overseas," he recalls. "Our vets deserve more than that."
The Prescott American Legion Post 6, along with neighboring posts, will celebrate the Legion's centennial from 11 a.m. to 4 p.m., May 11, at the Prescott Valley's Mountain Valley Park, 8600 E. Nace Lane. The celebration will include games for kids and free food, including pizza.
Verde Valley-area posts will celebrate their centennial from 11 a.m. to 3 p.m., April 27, at 75 Hollamon St., Camp Verde.
PIECE OF PRESCOTT'S HISTORY
Along with its place in American Legion history, the local post also occupies a fascinating spot in the history of Prescott.
The post's location at 202 S. Pleasant St. dates back to about 1930, Scott said, but the building goes back several decades beyond that.
Originally known as the Fredericks House, the sprawling building was the early home of R.N. Fredericks, the president of the Prescott National Bank.
The bank "went under in the 1920s," Scott said, and the state banking examiner began selling off the remaining property.
"They were asking way too much for (the house), and nobody could afford this place," Scott said.
Although the asking price was $11,000, Scott said a committee of the local post determined that it would pay just $5,500.
The bank examiner quickly came back with a counter offer of $5,600, and that is what the organization paid for its long-time home.
Follow Cindy Barks on Twitter @Cindy_Barks. Reach her at 928-445-3333, ext. 2034, or cbarks@prescottaz.com.
More like this story
SUBMIT FEEDBACK
Click Below to: