Yavapai shakes off two-game skid with sweep of Gateway
Junior College Baseball

By
Aaron Valdez
|
valaaron_94
Originally Published: April 18, 2019 12:25 a.m.
PRESCOTT – Even though the Roughriders didn't get to save 15% or more on their car insurance, they returned to their winning ways by taking a conference doubleheader over the Gateway Geckos Wednesday afternoon.
After winning 14 straight games between March 19 and April 6, Yavapai succumbed to a mid-season funk by dropping three of the next four games, albeit with two of those losses coming against a top team in Pima. However, the Roughriders used a strong showing from 6-foot-6 pitcher Trey Morrill in the first game of Wednesday's doubleheader to get themselves back in the win column.
Photo Gallery
YC vs Gateway CC Baseball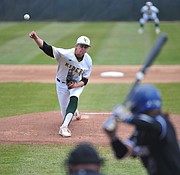 "(The win) was really big. We showed up to play," Morrill said. "Anytime you can get a sweep like this late in the season is huge for us."
In the early goings of game one, the Roughriders held on to a slight 2-1 lead before Gateway crushed a homer that barely flew over the right-field fence and Matt Novis' glove. This pulled the game even until the bottom of the fifth where Yavapai worked Gateway pitcher Seth Sas to place runners in scoring positon.
A bunt from Rocky Botello and a single from Will Long managed to set up Channy Ortiz for a quintessential sacrifice bunt to bring in Botello for the go-ahead run. Before the inning came to an end, Christian Encarnacion-Strand smacked an RBI single of his own to make it a 4-2 game in favor of Yavapai.
"This is stuff we work on a lot," Yavapai head coach Ryan Cougill said of his team's small-ball effort. "I don't think you need to work on the days you're seeing watermelons and hitting home runs. That's just the players' talent taking over, but on days like today where you got to manufacture runs, you got to work on it tenfold just to execute it in the games."
This lead was all the Roughriders needed to comfortably hang on for the win as Morrill shut out the Geckos in the final two frames. While Morrill was content to earn the Roughriders a victory, he also lauded his teammates for boosting his confidence via run support.
"It feels really good. Anytime you can get a one-, two-, three-run lead as a starting pitcher, you feel confident that you can go shut down the other team," Morrill said. "(Gateway) is a great-coached team but we had a good game plan for them and everything worked out for us today."
GAME 2
The nightcap of the doubleheader played out in similar fashion but only with the Geckos drawing first blood by capitalizing on a shaky start from pitcher William Sierra. The freshman surrendered a two-run shot to Antoine Carter-Mistico, which gave Gateway a 2-0 lead in the first.
Yavapai didn't respond until the bottom of the second when its small-ball tactics were on display once more. After hitting a double, Logan Williams ran home when the Gateway catcher tried to get him tagging at second base only to overthrow the ball into center field. The Roughriders then leveled the score at 2-2 by sacrificing before the end of the second.
In the fourth inning, the Roughriders gained some separation by knocking in four runs, including a towering triple to left filed from Encarnacion-Strand that brought in Tyler Boggs and Long. However, the Geckos still had some fight left as they tallied three runs in the following inning to make it a one-run game.
Fortunately for Yavapai, a homer from Williams in the bottom of the fifth sparked four unanswered runs to eventually close out the game 10-5 for the sweep. Reliever Bobby Meza and closer Riley Egloff also did well to keep the Geckos off the board the rest of the way.
"Starting pitching gave a chance to win and our defense was pretty dang good," Cougill said. "We had good situation hitting and we really ran our offense well, ran the bases well, so that stuff's good. It was kind of a tough day to hit with the wind blowing in, but Gateway is a good club so anytime you can sweep against them is a good feeling."
With the sweep, the Roughriders move to 31-13 overall and 21-11 in the ACCAC standings, which gains them sole possession of second place behind Cochise (39-10, 23-9 ACCAC).
UP NEXT
Yavapai will look ahead to a crucial two-game matchup on the road with heated rival Central Arizona (32-18, 18-14 ACCAC) on Saturday.
Aaron Valdez is a sports reporter for The Daily Courier of Prescott News Network. Follow him on Twitter at @Valaaron_94. Email avaldez@prescottaz.com or call 928-445-3333, ext. 2031.
More like this story
SUBMIT FEEDBACK
Click Below to: