Sharlot Hall Museum lecture focuses on frontier actresses

Originally Published: April 18, 2019 7:30 p.m.
Get an entertaining look at the actresses who entertained audiences in frontier towns of territorial Arizona at free lecture at Sharlot Hall Museum this weekend.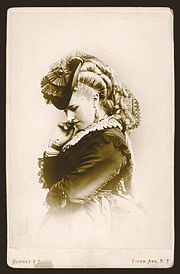 "Frontier femme fatales. Sirengs of the stage. Iconic eye candy for star-struck settlers. Women of the frontier stage represented culture, sophistication, and great drama," according to a news release from Sharlot Hall Museum Media and Marketing Manager Ken Leja. "Men worshipped them. Women envied them. pioneers of the western states and territories packed the local theaters to catch a glimpse of the legendary beauties whose personal lives where sometimes as sensational as the plays in which they starred."
Co-presented by Tom Collins, professor emeritus of theater at the University of Wisconsin-Platteville, cofounder of the Wisconsin Shakespeare Festival and author of several books including "Arizona on Stage: Playhouses, Plays and Players in the Territory, 1879-1912," and Karen Churchill, professor of English, Communications, and Humanities at Northern Arizona University-Yavapai and Embry-Riddle Aeronautical University, "Great Dames of the Arizona Stage" will feature such actresses as Sarah Bernhardt, Pauline Markham, Jeffreys Lewis and more.
Held at 2 p.m. Saturday, April 20, the lecture will be in the West Gallery of the Lawler Center and will focus on the stage presence of the actresses as well as highlight their off-stage lives and their greatest roles.
"Starved for dramatic entertainment, pioneers flocked to playhouses and theaters, and were spellbound – thoroughly engaged by the charm and charisma of these famous women," the release states.
The Sharlot Hall Museum is located at 415 W. Gurley St. Seating is limited. For more information, call the museum at 928-445-3122.
By Jason Wheeler, follow him on Twitter @PrescottWheels, reach him at 928-445-3333 ext. 2037.
More like this story
SUBMIT FEEDBACK
Click Below to: