At a Glance: Learn about all things Yavapai College
Kudos staff
Originally Published: April 18, 2019 9 p.m.
Learn about all things Yavapai College
Yavapai College and the wider community will be brought together for games, food, music and information Friday, April 19, at the 2019 Yavapalooza event, the largest Yavapai College student-driven event of the year.
Held from 4 to 8 p.m., attendees will have the opportunity to learn about the college, including its academic and career-training opportunities, as well as participate in a silent auction benefiting the college's emergency food pantry.
Admission is $2 for adults, and free for Yavapai College students and youth. Yavapai College is located at 1100 E. Sheldon St.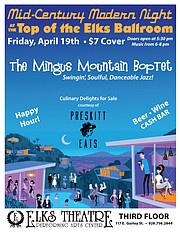 Dance at the Elks tonight
Dance to some midcentury modern music Friday night, April 19, with the Mid-Century Modern Night at the Top of the Elks Ballroom, featuring the Mingus Mountain Boptet, on the third floor main event hall.
Doors open at 5:30 p.m. with music from 6 to 8 p.m., a cash beer and wine bar and snacks avaiablle from Preskitt Eats. Admission is $7 at the door.
For more information, call Steven Karstein at 928-756-2844. The Elks Theatre and Performing Arts Center is located at 117 E. Gurley St.
More like this story
SUBMIT FEEDBACK
Click Below to: